August 12, 2021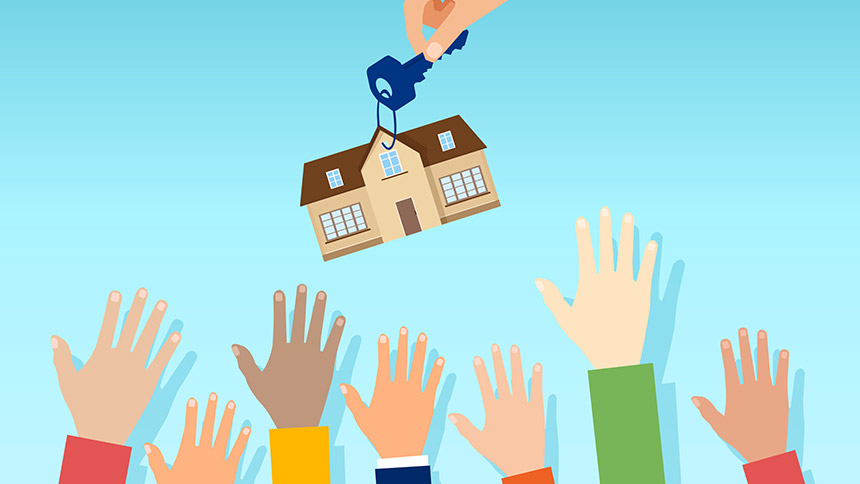 If you're looking for a new home, you've probably found yourself in the midst of a highly competitive seller's market. Houses are selling very quickly (and often above their asking price), and you've probably found yourself in more than one bidding war. In fact, median home prices were up 10% at the beginning of 2021 and are expected to increase as much as 5-8% by the end of the year. If you're wondering how to buy a house in a competitive market, this blog is for you. Our home buying tips will give you an advantage over other buyers to help you find the home of your dreams, even in the current seller's market.
1. Choose the Right Realtor & Take Advantage of Their Expertise
Our first tip for buying a house in a competitive market is to find a trustworthy realtor who's looking out for your best interests. Rather than signing on with the first agent you talk to, speak with multiple realtors who you've researched in advance.
Start by asking your lender, friends, and family for recommendations, and then use the Internet to learn more. Ultimately, your realtor should have a solid grasp on your deal breakers and what's important to you before they start the home search.
2. Create a Budget to Determine a Monthly Payment You Can Afford
It's easy to overestimate your ability to make monthly payments when you find a home that checks all of your boxes. The best way to avoid this dilemma when buying a house in a seller's market is to create and stick to a detailed budget. Along with giving you an idea of the amount you can afford, budgeting makes it easier to save money for your down payment.
Creating a budget is simple. Start by gathering all of your expenses, which may include:
Car payments
Student loan payments
Credit card payments
Childcare costs
Groceries
Gas
Vehicle insurance
Health insurance (if applicable)
Utilities
Trash
Internet/TV
Cell phone
Once you've totaled up your expenses, subtract them from your monthly income. The remaining amount is what you can afford to put towards a potential mortgage payment.
Asking yourself how to buy a house in a competitive market? Check out this calculator from Diamond, which determines the most expensive house you can buy based on the highest monthly payment you can afford.
3. Know Your Credit Score & Improve It If Necessary
One of the most important things to know before buying a house in a seller's market is your credit score. This is because your credit score impacts your interest rate, the length of your loan, and any additional fees you may incur. Credit scores range from 300-850, and higher scores offer more loan options, lower interest rates, and better overall loan terms.
Which Factors Influence Your Credit Score?
Your credit score is calculated using the following five factors:
Your payment history, which is whether you make repayments on time and in full. (35%)
Your outstanding credit (or credit capacity), which is the amount you owe and the percentage of available credit you've used. (30%)
The length of your credit history, which is how long you've been taking out loans or using credit cards. (15%)
Any accumulation of new debt, which includes debt you've incurred in the last 12-18 months and the number of hard inquiries into your credit score. (10%)
Your credit mix, which includes both installments (e.g. auto and student loans) and revolving (e.g. credit cards) debt. (10%)
Which FICO Credit Scores Do Lenders Focus On?
While there are as many as 16 variations of your Fair Isaac Corporation (FICO) score, mortgage lenders concentrate on Scores 2, 4, and 5. These focus specifically on your ability to make mortgage payments and make up what's known as your Residential Mortgage Credit Score (RMCS). Your RMCS also considers your employment and residential history, as well as any relevant legal records.
How Can You Improve Your Credit Score?
Getting credit ready to buy a home? There are three main ways to improve your credit score:
Pay down your existing debt, starting with high-interest debt such as credit cards.
Make all of your payments on time, as this is the largest factor in your credit score.
Avoid taking on any new debt unless it's absolutely necessary or an emergency.
4. Determine Exactly What You Want Before You Start Shopping
Touring houses may be the most enjoyable aspect of the homebuying process, but seller's markets require you to shop with intention and know how to buy a home quickly. In some cases, you may have to make an offer within hours of seeing a home, so it's crucial that you know your requirements and deal breakers on the spot. Don't lose out to a more prepared buyer simply because you haven't nailed down your must-haves or determined a realistic budget.
5. Have a Significant Down Payment Ready to Go
Many people struggle when saving money for a house, but a larger down payment means borrowing less and paying back less interest over the life of your loan. Add saving for your down payment to your monthly budget, and don't fall prey to the temptation to raid your savings account or emergency fund.
Ways to Save for a Larger Down Payment
Here are a few of the best ways to save for a larger down payment when preparing to buy a house:
Pay off all of your credit card debt
Open a dedicated homebuyer savings account
Bank any tax refunds, work bonuses, and commission checks
Set up direct deposits into your savings account
Cut back on any unnecessary expenses
Save tax-free gifts from relatives (receive up to $14,000 without tax repercussions)
Withdraw up to $10,000 from your IRA with no fees (first-time homebuyers only)
6. Get Pre-Qualified for a Loan Before You Start Looking at Houses
Getting pre-qualified for a home loan is another smart strategy if you're preparing to buy a house in a competitive market. Your lender will pull your credit score and verify your income online or over the phone to determine whether or not you meet their minimum loan requirements.
Along with providing insight into the monthly payment you can afford, pre-qualification can keep you from falling in love with a home that's too expensive. It may also give you a significant advantage in a seller's market because buyers know you're serious. And once you go under contract on a home, pre-qualification can speed up the closing process since you've already done some of the work.
It's important to understand that pre-qualification is different from pre-approval and does not guarantee final loan approval.
7. Make Your Best Offer Up Front to Avoid Being Rejected
Because we're in a seller's market, you should automatically assume that sellers are considering multiple offers. If your offer is too low, the seller may come back to you with a counteroffer or simply choose someone else. But offering list price or above shows them you're serious about buying their home. Ultimately, it's key to be patient and understand that you may have to make offers on several homes before going under contract.
8. Know What Happens if a Home Appraises Under Asking Price
Simply put, an appraisal is an official estimate of a home's property value. Appraisals are required by lenders, who will only approve a loan if the property appraises for the full sale price or above.
There are several negative ramifications associated with homes that appraise under their purchase price. For starters, your lender will probably decrease the amount they'll allow you to borrow. As a result, you'll have to pay more out of pocket or ask the seller to lower the asking price, which is highly unlikely in the current housing market.
9. Be Prepared to Pay Your Closing Costs at Settlement
Our last tip for buying a house in a competitive market is to have your closing costs in hand at settlement. You cannot roll your closing costs into your loan and pay them in monthly installments. Instead, they're due at settlement, along with your down payment and other closing fees.
Closing costs may include lender fees, title insurance, title-related fees, transfer taxes, and prepaid items like property taxes, homeowners insurance, and escrow setup fees. Never raid your savings or emergency fund to pay your closing costs, since major problems can crop up soon after settlement.
Now that you know how to buy a house in a competitive market, it's time to get pre-qualified for your next home purchase. Visit our Mortgage Center to learn more or contact our knowledgeable team to get the conversation started!