September 1, 2021
Photo (left/above): Wyomissing branch staff, Jalizette V. (left) and Nayeli C. (right), delivered school supplies to Big Brothers Big Sisters of Berks County Youth Activities Coordinator, Shannon Farrow (center).
The beginning of the 2021 school year represents new beginnings for students, and new opportunities for Diamond Credit Union to help them. For the month of August, Diamond employees and members came together to donate school supplies to Berks and Montgomery County children.
This marks over 10 years of Diamond hosting a school supply drive for community schools. While in years past only employees would participate, members were invited to join in this year.
"We are so proud to be part of such a giving community," John Faust, Diamond Credit Union President and CEO said. "We wish the best of luck and continued success to students as they start the new year."
Those that donated filled 24 boxes of school supplies. Half of the boxes went to Big Brothers Big Sisters of Berks County (BBBS), and the other half went to The Ricketts Center in Montgomery County.
The Ricketts Center hosts recreational and wellness activities focusing on after school programming for Pottstown youth.
Big Brothers Big Sisters of Berks County is a mentoring program where volunteers guide hundreds of Berks County youth.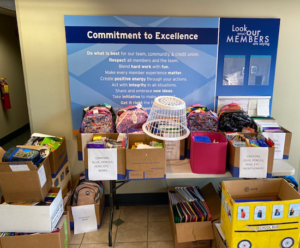 "DCU is continuing to stand with us to defend the potential of our Littles," Jim Smith, Executive Director of BBBS of Berks County said. "It is through friends like Diamond that we empower our Littles to achieve their goals."
Photo (right/above): A portion of the supplies collected that were donated to Big Brothers Big Sisters of Berks County and The Ricketts Center.  
A big thank you is due to the members and employees that made this donation possible. You allow for Diamond Credit Union to continue to meet the needs of the surrounding communities. Here's to another 10 years of school supply drives.
Joining together to support community youth…that's younity.