September 24, 2020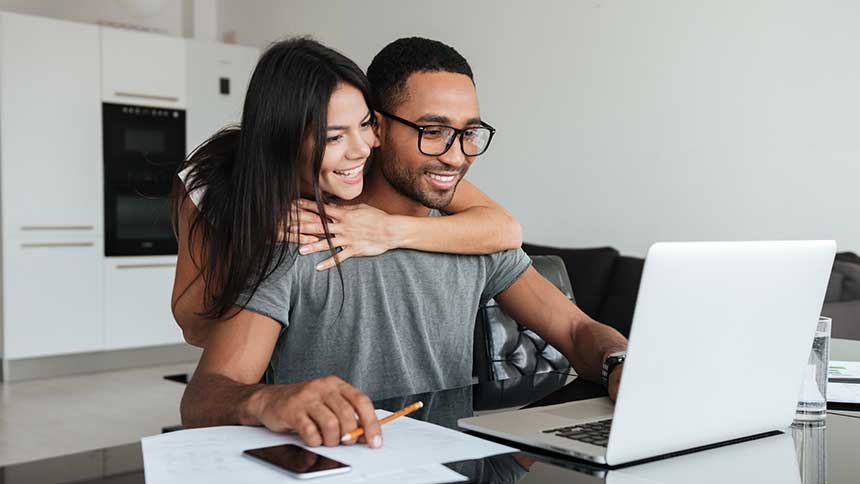 While buying your own home can be very exciting, it's important to ask yourself, "am I ready to buy a house?" before taking the plunge. Making sure you're financially ready for homeownership will save you heartache (and headaches) down the road. Keeping your financial health in mind and staying informed about the costs of buying a house will set you up for long-term success as a homeowner.
Create a Monthly Budget
One of the best ways to answer the question, "can I afford to buy a house?" is to create a detailed budget. Your budget should account for your monthly income and expenses and include all of the costs of homeownership. This includes (but is not limited to):
Along with ensuring you have enough money to cover your monthly expenses, your budget can help you develop better financial habits. Plus, it makes it easier to save for the future since you can build savings and investment contributions into your budget.
Budgeting also gives you a clear picture of what you need to do to pay off any debt you may be carrying. And should you need to take on new debt, your budget can help you determine how much you can afford. Tracking how much you spend on necessary items can also help you avoid spending money on non-necessities that you haven't budgeted for.
Diamond's Sr. Real Estate Originator, Ben Huard, had the following to say about the importance of a monthly budget: "Members often ask me to confirm whether they can or should be able to afford a mortgage payment. The truth is that everyone's different and what one person can afford on a certain salary, another person may not be able to. It's very important when making such a large purchase to have a good handle on your finances and have a monthly budget prepared."
Make Sure You Can Afford Your Monthly Payment
Imagine finding the home of your dreams, signing on the dotted line, and quickly realizing you can't afford your monthly payment. Lenders may offer to lend you more than you can afford to pay each month, leaving you house poor or in serious debt. Don't neglect to realistically answer, "how much house can I afford?"
You can avoid an unaffordable monthly payment by asking lenders how they've calculated what you can afford. In most cases, this will include your income, debt, assets, and liabilities. They'll also factor in your front-end ratio (mortgage-to-income) and back-end ratio (debt-to-income). Experts advise only taking on a mortgage that's 2-2.5 times your gross income to ensure that you can afford your monthly payment.
According to Huard, "If you're still living at home and aren't sure if you can afford your mortgage, try saving the payment amount for a few months. If you find you can't do it — or you can't do anything you enjoy — that tells you all you need to know about whether that new mortgage payment is comfortable for you".
Build a Post-Settlement Emergency Fund
Unfortunately, there are a lot of things that can go wrong in your new home. Everything from the appliances in your kitchen to the paint on your ceilings may need maintenance at some point. That's why it's very important to have a rainy day fund saved for emergencies or repairs that may pop up after settlement.
Statistics show that American homeowners spend an average of $2,000 a year on home maintenance. To counter these expenses, experts recommend saving 1-4% of your home's value every year. Start small by building contributions to your emergency fund into your budget. This is especially crucial if you're planning on renovating your home in the future.
Ask Questions Now to Avoid Problems Later
Don't hesitate to ask your lender or real estate agent about anything you're unsure of. Asking questions upfront can help you avoid issues or sticker shock down the road. Some of the most important questions you should ask to help you answer, "am I ready to buy a house?" include:
How much house can I afford?
How much am I qualified to borrow?
How much should I save for a down payment?
What is my interest rate? Is it fixed or adjustable? Does it include points? When can I lock it in?
What are my estimated closing costs? Are there other costs I should know about?
When will my closing be? What do I need to bring to closing? Are there factors that might delay closing?
What are the differences between being prequalified and preapproved for a mortgage?
Do you handle underwriting in-house? What is your average loan processing time?
What happens if my appraisal comes in too low?
Are you asking yourself, "can I afford to buy a house?" Visit our Mortgage Center or reach out to our team of professionals today! We'd love to help you get into your dream home.