July 2, 2020
While the housing market outlook was strong going into 2020, the COVID-19 pandemic has negatively impacted both buyers and sellers. As a result, the number of homes on the market has fallen by about 45%. However, we still remain in a strong seller's market. If you're ready to buy your first home in a seller's market, we have first-time homebuyer tips to get you started.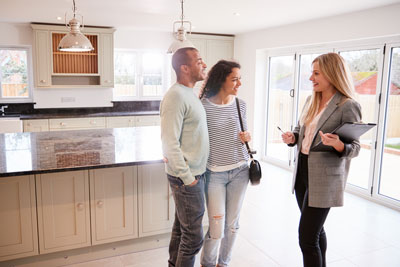 Get Pre-Qualified Before You Start Looking
One of the best ways to give yourself an advantage in a seller's market is to get pre-qualified for a mortgage. Pre-qualification gives you and your lender a more specific idea of the monthly payment you can afford, helping to ensure you don't fall in love with a house beyond your budget.
Because you're doing some of the legwork ahead of time, getting pre-qualified can also speed things up once you go under contract. Similarly, it can make you a more appealing candidate to buyers, since they know you're serious about making a purchase. It's important to remember that getting pre-qualified doesn't guarantee final approval of your loan, though.
Don't Count on Getting Seller's Assist
It's very important not to expect seller's assist, especially when buying in a seller's market. Intended to help buyers pay for a portion of their closing costs, seller's assist can also be used to purchase mortgage points. Even better, seller's assist can give you a bigger down payment, allowing you to secure a lower interest rate and pay less PMI (or avoid it altogether). Plus, mortgage insurance will cancel more quickly since you'll get to 80% once you start making your payments.
If you do receive seller's assist, keep in mind that the amount you receive cannot be more than your closing costs. And if you offer above list price while also requesting seller's assist, your appraisal must come in higher than the list price.
More Restrictive Mortgage Programs Can Weaken Your Offer
While they're appealing initially, non-traditional mortgage programs with more limitations can make your offer less appealing to sellers. These programs include FHA (Federal Housing Administration), USDA (United States Department of Agriculture), and VA (Veterans Affairs) loans, among others.
Because these programs come with more caveats than traditional mortgages, many sellers associate them with buyers who have bad credit or are unlikely to be approved for a mortgage. This is in stark contrast to how they may view buyers with traditional financing, seeing them as more qualified and likely to close quickly without issue.
If you go with an FHA or USDA loan, sellers may worry about the stringent home inspection that's required and the amount of money they might have to spend making repairs. In fact, studies show that sellers tend to choose buyers with traditional loans over those with non-traditional loans, even if their offer is higher.
Make Your Best Offer the First Time
When it comes to buying in a seller's market, operate under the assumption that the seller has multiple offers. If you lowball them, they probably won't bother negotiating with you and will instead choose someone who made a better offer. Go too low, and you risk offending them to the point of them writing you off altogether.
Offering below listing price is particularly difficult in a seller's market because inventory is so low. In this case, you'll want to offer list price or higher to show sellers you're serious about buying the house. If you do decide to offer significantly less than the asking price, make sure you consult with your realtor first. A good realtor will help set proper expectations and guide you in making a realistic offer.
Are you buying a home for the first time and looking to get pre-qualified? Diamond's pre-qualifications are good for four months (120 days), giving you plenty of time to start looking. Visit our Home & Mortgage Center today to get started!