May 28, 2020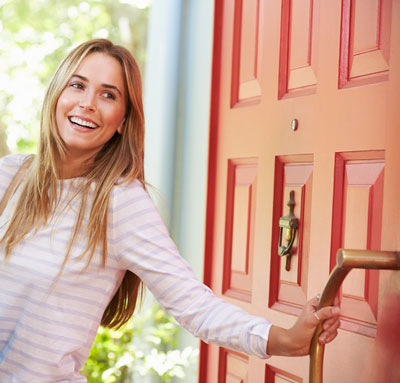 With mortgage interest rates at historic lows, many people are on the hunt for a new home. While it's an exciting time, the homebuying process can also seem rather daunting. That's why we've put together these tips for buying a house that will help make the process as smooth as possible.
Choose a Realtor You're Comfortable With
Helping the homebuying process go smoothly starts with working with the right realtor. Don't feel obligated to sign on with the first realtor you meet. Instead, talk to multiple agents and choose one who's looking out for your best interests, rather than their own.
Make sure your realtor understands what's important to you and what your specific deal-breakers are. This helps them narrow down the search so they only show you homes that match your needs. Ultimately, choosing the best realtor is just as important as finding the right mortgage program for your needs.
Get Pre-Qualified for a Loan
One of the earliest steps in the process of buying a house is getting pre-qualified for a loan. This helps you — and your lender — have a more specific idea of the monthly payments you can afford. It also makes you a more appealing candidate to sellers because they know you're ready to buy. Additionally, it can accelerate the homebuying process since you've already done some of the legwork.
Think Twice About Fixer-Uppers
At first glance, a fixer-upper can seem like a great way to save a lot of money on your new home. However, fixer-uppers can sometimes end up costing more in the long run. Before signing on the dotted line, make sure any fixes can be completed within your budget and for less than what you'd pay for a non-fixer-upper. Fixer-uppers can become even more expensive if you make a major mistake while attempting to do repairs on your own.
Don't Take Out Any New Debt
It can be tempting to purchase furniture or yard equipment for your new home, but you should wait until after closing to make any major purchases. If you run into an emergency that will incur new debt, make sure to run the proposed new payment by your loan officer. They can help you understand how this new debt might affect your mortgage terms and/or settlement date. This allows you to make an informed decision that doesn't jeopardize the process of buying a house.
Make Sure You Can Afford the Monthly Payments
When you find a home you love, it's easy to get carried away and overestimate your ability to make your monthly payments. That's why it's essential to be realistic about what you can afford, rather than going under contract with a monthly payment you won't be able to handle. If you end up backing out of the contract, you could lose your earnest deposit, which is often thousands of dollars.
Don't Change Jobs or Quit Your Current Job
Another way to ensure the homebuying process goes smoothly is not changing jobs or quitting your current job. This is especially true once you're under contract on your new home. Your lender will do a final verification of employment a few days before settlement, so it's important to stay at the same company. If you absolutely have to quit or change jobs, check with your loan officer first. Changing or quitting jobs doesn't necessarily mean the deal will fall through, but it can push your settlement back and cause major inconveniences.
Save Your Closing Costs for Settlement
This may seem like a no-brainer, but it's also crucial to save your closing costs for the day of settlement. You can't roll them into your loan and pay them on a monthly basis. Instead, you'll have to pay them at closing along with your down payment.
Ready to get the ball rolling on your new home purchase? Our mortgage team experts are here to help ensure the homebuying process goes smoothly. Contact us to start the conversation.