July 14, 2020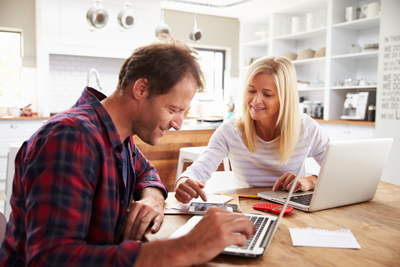 What is financial wellness? Financial wellness refers to the ability to satisfy your personal financial goals, whether you want to save for the future or meet short-term needs. These may include immediate needs (1-3 months), short-term needs (3-12 months), short-term goals or recovery (1-5 years), and long-term objectives (5+ years). As we continue to deal with COVID-19, financial wellness is more important than ever. Individual and family incomes have dropped for many, which has brought undue stress and uncertainty. In this blog, we'll provide financial wellness tips for what you can do now and what you should do once you're more financially stable.
Create a Personal Budget
One of the most important personal finance basics is creating (and sticking to) a budget. Having a personal budget allows you to set concrete spending and saving goals since you know exactly where your money is going. It also allows you to prioritize paying down debt, especially high-interest credit card or student loan debt.
When it comes to budgeting, the most basic rule of thumb is to never spend more than you earn. There are a wide variety of personal budgeting apps available that can help you create and maintain your budget, like Mint and YNAB. Financial experts recommend following the 50/30/20 rule with your take-home pay:
50% should go towards basic living essentials (e.g. rent/mortgage, utilities, and groceries)
30% should go towards lifestyle expenses (e.g. eating out and clothing)
20% should go towards the future (e.g. debt, retirement, and emergency funds)
If you've found yourself cutting back on your spending during COVID-19, take a look at what you've lived without. You can use this to alter your spending moving forward based on what you want vs. what you actually need.
Monitor Your Credit Score
If you want to get a mortgage, lease a vehicle, or take out a personal/business loan, a solid credit history is a must. Your credit score is calculated using your credit-to-debt ratio, how long you've had credit, and your payment history. You can get started with a free credit report from one of the Big Three (Experian, Equifax, TransUnion) or a free credit score from Credit Karma, Credit Sesame, or Wallet Hub.
In addition to demonstrating you are a responsible borrower, the better your score, the less you'll pay to borrow funds. It's worth your while to monitor the score and actively work to improve or maintain a good credit score.
Minimize New & Existing Debt
Another personal financial wellness tip is to reduce the amount of new debt you take on and pay off your existing debt. You can start this process by eliminating any credit card debt you might have.
There are several positives to using credit cards, including establishing a credit history and tracking spending at a granular level. However, credit cards also keep many people from sound financial footing because they're unable to control their spending.
If you do use credit cards, you should pay off your entire balance at the end of each month. If you're unable to do so, you should at least stay at a credit utilization rate minimum, which is when your balance is below 30% of your total available credit. Always pay your credit card bill on time, and be sure to never miss a payment, even if it's not the full balance.
If you can't control your spending, try using a debit card instead of a credit card since you can only spend what's in your checking and savings accounts. And if you've had to put a lot of purchases on credit cards during COVID-19, be sure to work your higher monthly payments into your personal budget.
Build An Emergency Fund
Many people overlook having an emergency fund, but it's an important personal finance basic that shouldn't be ignored. You should have a safety net of 3-6 months of living expenses set aside for unexpected costs, such as medical bills or large repairs.
If you depleted your savings account or emergency fund during COVID-19, start rebuilding it as soon as possible. Ask yourself what you can and should do to rebuild your accounts once you can resume budgeting. And always factor your emergency fund into your personal budget to ensure you're saving what you should be.
Plan for the Future
If COVID-19 has shown us anything, it's that the future can be very unpredictable. To regain your financial security, think about your current goals and how you can achieve them in the "new normal." What are your short-term needs in light of COVID-19? These may include paying back rent in installments or getting current on debts.
One of the best ways to plan for the future is setting up automatic deposits from your paycheck to a savings account. Multiple savings accounts, each earmarked for a different purpose, can be opened and used to budget for specific wants or needs. This can help you get back on track, since the money won't be available to spend in your checking account. Be sure to also speak with your financial institution about any products and services that are available to help you make a solid plan moving forward into the future.
Do your personal finances need a facelift in light of COVID-19? We're here to help, whether you want to revamp your budget or set new long-term objectives.