Home Promotions
HOME BREW
Diamond Credit Union's Home Brew for Aspiring Home Buyers is a difference-making, no-cost, interactive event unlike any other in our community for those who want a partner in the home buying process. Diamond Home Brew is local people, in a relaxed and fun atmosphere, and feels personal.
Attendees will enjoy beer (soft drinks available too), food, and receive a coupon for $250 off closing costs on any future mortgage with Diamond Credit Union.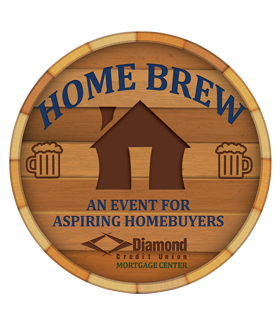 Home Brew will address hot topics which, according to the National Association of Realtors and Diamond Mortgage Center experts, buyers most often seek help understanding:
Finding the right property
Understanding the paperwork
Understanding the process and steps
Saving for the down payment
Getting a mortgage
Appraisal of the property
Understanding your credit
REGISTER NOW
WHO: You and a guest, or fly solo, no matter where you are on your home buying journey (ages 21+ only).
WHAT: Knowledge, beer, and food compliments of Diamond.
WHY: Your opportunity to talk with and learn from the Diamond Credit Union mortgage pros and area real estate experts.
Tuesday, October 22, 2019 from 6-8 PM
Tuned Up Brewery, 135 N Main Street, Spring City