June 1, 2023
Diamond Credit Union launched the first tier of a two-tiered leadership development program in the beginning of 2023. Level One of the program is called "The Essentials of Management," and was created to help develop Diamond individuals in various leadership roles.
The program was designed to give managers the skills and knowledge to effectively lead, engage, develop and motivate their teams as they enter their new position.
Diamond Credit Union's Training and Development Manager, Greg Keck, is part of the team that is teaching the program.
"I am grateful to have had the pleasure to train two amazing groups of Diamond leaders in our inaugural class," Keck said. "Their participation and willingness to learn has been amazing, and I'm looking forward to offering this program to other managers at Diamond for years to come."
The program runs for several weeks and includes a variety of materials and learning tools. Diamond's supervisors will take part in self-assessments, role playing, script writing, multimedia interactions and more.
The topics that are specific to Level One include, Management Fundamentals, Coaching, Effective Motivation and Accountability, Managing Mindsets, Conflict and Critical Conversations, and Strategic Thinking.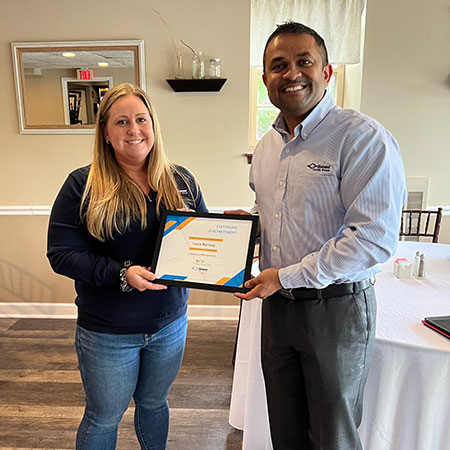 Photo: Diamond Credit Union's President and CEO, Rick Patel, handing Diamond's Boyertown Branch Manager, Laura Buroojy, her Certificate of Completion for Level One of of the Essentials of Management program.
On May 10, the first group of participants completed Level One. Diamond's Boyertown Branch Manager, Laura Buroojy, was part of that class.
"To create a positive work environment and successful team, you need to have a great leader at the top," Buroojy said. "This program provided me with more insight and ideas to continue to foster that at the Boyertown branch."
Level 2 of the program is called, "The Essentials of Leadership," and is expected to launch in 2024. This portion of the program will further develop the skills of current supervisors. Diamond is also offering elective course for supervisors to participate in. The courses are offered virtually through MidAtlantic Employers' Association.