May 25, 2023
Diamond Credit Union's Relay For Life team, Diamond's Hope, went to Berk's County Fairgrounds on May 20 to participate in the Berks Relay For Life.
Diamond employees showed their support for Relay in the week leading up by participating in Spirit Week. Each day employees were asked to wear something to fit the theme. This included Red, White and Blue Day, Sports Day, Crazy Socks and Younity Day, Purple Day and Relay For Life Shirt Day.
Employees were asked to wear purple on May 18 to raise awareness for esophageal cancer and in remembrance of Diamond employee, Paul Yacobowsky. All proceeds that Diamond and The Diamond Charitable Foundation raise for Relay For Life in 2023 will be donated to honor and remember Yacobowsky.
2023 Purse Lottery to Benefit Relay For Life
Diamond Credit Union sold lottery tickets during May for The Annual Designer Purse Lottery. This year the organization raised $13,160 for Relay For Life. In June, people who purchased tickets have a chance to win a designer purse. If their ticket corresponds with the Pennsylvania Lottery's Evening Pick 3, they win a designer purse.
Big Brothers Big Sisters Annual Bowl for Kids' Sake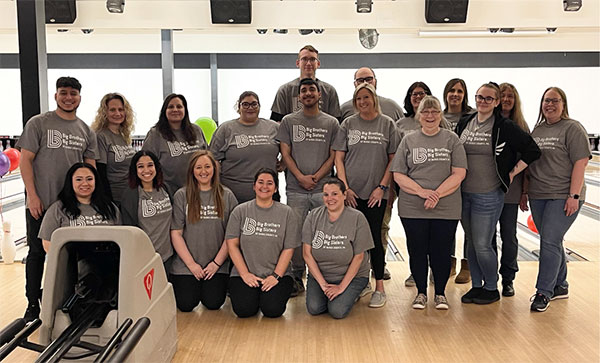 Photo (Above): Diamond employees at the 41 Annual Bowl for Kids' Sake on April 29 at Berks Lanes.
Employees were back at the bowling alley to participate in Big Brothers Big Sisters 41 Annual Bowl for Kids' Sake. Diamond had seven teams that raised $3,100 for Big Brothers Big Sisters of Berks County. The money raised from this event directly impacts Berks County youth and their families.
Miller Keystone Blood Drive
Diamond invited the Miller Keystone Mobile Unit to the Pottstown branch on May 23. Several employees donated blood to help those in need.
Tower Health Branch Provided Lunch for DAISY Award Recipient
Diamond's Tower Health- Reading Hospital branch celebrated Registered Nurse, Sawyer Underwood, for being awarded with the DAISY Award by the Reading Hospital. This award is given to nurses that demonstrate extraordinary clinical skills and compassion to patients. The branch provided Underwood with lunch.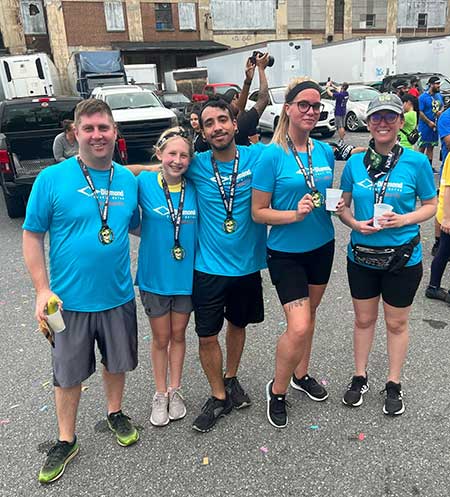 Photo (Above): Diamond employees pictured after participating in the Cinco De Mayo 5k on May 7 in Reading, Pa.
Cinco De Mayo 5k
Diamond employees, in conjunction with the Credit Union's Wellness Comittee, met in Reading to run a Cinco De Mayo themed 5K on May 7. The event brought community members together for a chance to combine fitness and fun.
Thank You
The Diamond Credit Union team appreciates everyone that volunteers their time to support the organization's community efforts. From supporting Diamond's Hope at Relay For Life, to helping us raise money for various causes, Diamond wouldn't be able to do this without you.
Being an active part of the community…That's Younity.