April 21, 2023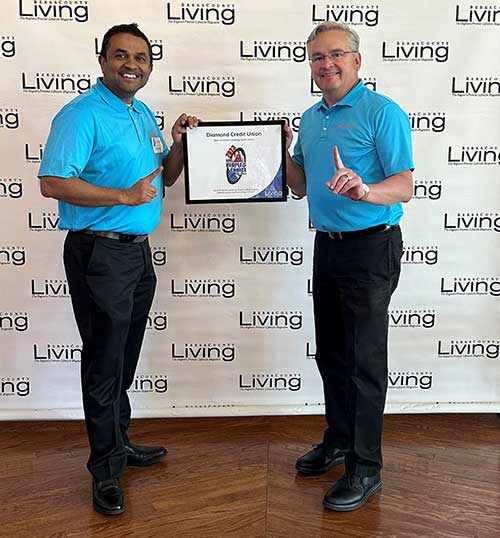 Photo: Diamond President/CEO, Rick Patel, and Senior VP/Chief Member Experience Officer, Todd Rothenberger, receiving the People's Choice Award on April 21 at the luncheon provided by Berks County Living.
Diamond Credit Union was awarded People's Choice of Berks County for Leading Credit Union for the 16th consecutive year. The award was given by Berks County Living Magazine.
People's Choice Awards are given to local businesses that have been voted the best of the best by thousands of local residents. These residents received a scientific survey from Harrisburg-based, Fieldgoals.US, a Certified Women Business Enterprise, to cast their votes.
"We're honored to be voted the Leading Credit Union of Berks County," Diamond President and CEO, Rick Patel said. "Our goal is to make banking personal and convenient for our members, and we're glad that's what they experience."
The winners of the People's Choice Awards demonstrate a commitment to quality and create positive consumer relationships. Patel attended a luncheon along with Diamond's Senior Vice President and Chief Member Experience Officer, Todd Rothenberger, on April 21 to celebrate with other award-winning local businesses.
"We want to thank our members for nominating us for this award," Rothenberger said. "Diamond employees and members work together to make this Credit Union different from any other financial institution."
Diamond Credit Union's Recent Awards and Achievements
2022 Best Places to Work
Diamond was ranked as the eighth best medium-sized company in Pennsylvania. This is the seventh consecutive year that Diamond has received the award.
2022 Best of Berks
Diamond was awarded Best of Berks, Best Financial Institution by Berks County Living Magazine. This was the fifth year that Diamond won, and DCU is the only Credit Union to ever win this category.
Providing positive experiences and committing to quality…That's Younity.