December 9, 2022
Video: Diamond employees at the awards ceremonies on December 8 for Best Places to Work and Best of Berks.
Best Places to Work
Diamond Credit Union was ranked as the eighth best medium-sized company in Pennsylvania. Not only is this the seventh consecutive year that the Credit Union has receive this award, but it is also the highest rank Diamond has received yet.
Diamond was named as one of Pennsylvania's Best Places to Work for 2022 in October. December 8 marks the best night of 2022, because it was the night the organization celebrated with other top companies and were given their final ranking.
"Our employees are truly what makes Diamond Credit Union one of the best places to work," Diamond President and CEO Rick Patel said. "Everyday they come in with motivation to help members and help each other, and they accomplish that while having fun."
The Best Places to Work in PA is a survey and awards program that identifies PA's best employers. Employees of PA businesses participate in a confidential survey and are asked to rate their company on aspects such as culture, innovation, work/life balance, and more. The data from the survey is then compiled into a report for employers to review where they succeed and where they can improve.
The best night of 2022 was a chance for the organization's employees to celebrate their accomplishments, and everything they do to make Diamond one of the best places to work.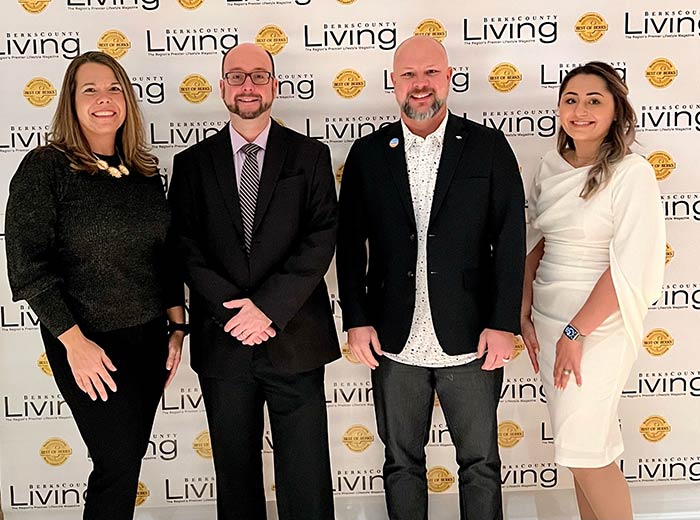 Photo (Above): Diamond's Retail Delivery Manager, Andrea Sawchuck-Moyer.,  Mortgage Origination Manager, Ben Huard.,  Business Lending Manager, Phil Fry. and Business Development Officer, Stephanie Ziegler. pictured at the Best of Berks award ceremony on December 8.
Best of Berks
Diamond Credit Union was also awarded Best of Berks, Best Financial Institution by Berks County Living Magazine. This is the fifth year in a row that Diamond has been voted Best of Berks, and Diamond is the only Credit Union to ever win in this category. Diamond has built a relationship with community members over the years and has created a lasting and positive impression.
"What matters is how our banking services are delivered," Diamond's Director of Branding, Rob Hackash said, "Having well-trained staff is the first step to convenience."
The winners of Best of Berks are determined by the community members of Berks County. Berks County Living has over 30 categories where voters submit the businesses that they believe to be the best.
"We want to give a big thank you to our community members that voted us the best financial institution," Patel said. "Our employees and members have a dynamic that keeps Diamond Credit Union moving forward."
Diamond celebrated the award with other businesses on December 8. Business Development Officer, Stephanie Ziegler. spoke at the celebration about Diamond's accomplishments.
The Best Night of 2022
As 2022 comes to a close, Diamond Credit Union employees couldn't think of a better way to close out the year. Winning Best Places to Work and Best of Berks will help employees end 2022 on a good note and start 2023 on the right foot.
Providing members and employees a place they can succeed personally and financially…That's Younity