December 8, 2022
By Gabby H., Marketing Associate for Diamond Credit Union
From 2020 to 2022, we witnessed historically low interest rates. In January of 2021, interest rates for a 30-year mortgage were the lowest we have ever seen at 2.65%. The rates slightly fluctuated during the rest of the year and through the beginning of 2022. For perspective, the average mortgage rate is currently 6.86%.
Now that the rates are rising, we're starting to see interest rates between 6.00% and 7.00%. People are starting to think that it's not worth it to buy a house anymore. I'm here to tell you that there is still hope and here's why.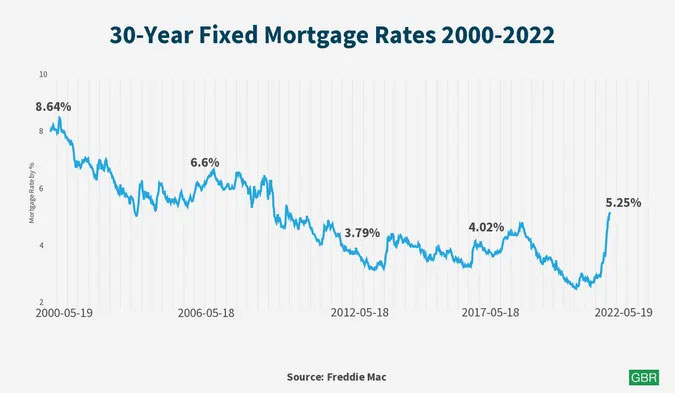 Photo: This graph from Freddie Mac shows the average interest rates for 30-year fixed mortgages from 2000 to 2022.
A Seller's Market
When rates were so low, many people began looking for a new house, or their first house. This was a great opportunity to save money on interest, and since the rates were lower it meant you could spend more money on a house versus an interest payment.
I was one of those people. I spent almost a year looking at house after house, hoping that the next one would be the one. The competition for first-time home buyers was fierce.
Not only were there so many buyers due to the low interest rates, but there were people looking to purchase after experiencing extreme rent increases. This left us with a ton of people looking for houses at the same time, but not nearly enough houses for sale to meet the demand.
This situation was great for sellers, however for buyers it presented a few problems.
Since there was so much competition, that meant my offers had to be locked down with none or next to no responsibility for the seller, at least in most cases. I was waiving inspections, I was way overbidding on houses and at the end of the day, my offer was still not accepted because someone else was bidding twenty to forty thousand dollars over asking price.
I eventually stopped house hunting because I couldn't compete with that, and now I'm glad that I did.
Interest Rates are Rising
It might seem wrong that higher interest rates can be good for buyers. It's even weird for me to say, but this is the push that we need to stabilize the housing market.
Higher interest rates do mean that you could be approved for less house because the interest payment is higher, however, it also means that there is less buyer competition. When there is less competition, it forces sellers to allow for more buying options.
In the housing market for 2020 through 2022, I was told I should not ask for a home inspection in offer letters. That's a big risk, especially if I would have overbid on the house and then had something major break after closing. That would leave all the responsibility on me to fix it, even if this was an ongoing issue beforehand.
In a buyer's market, it's completely normal to ask for an inspection. Not only that, but if the inspector does find something majorly wrong, you can then negotiate terms with the seller. It also means peace of mind knowing that the house is safe.
Another benefit to a buyer's market is seller's assist. This is when the seller agrees to pay for a certain percentage of closing costs, which is helpful if you don't have as much money in eligible funds. Seller's assist can help lower your overall monthly payment.
With less buyers looking for houses, that means you can negotiate easier and sometimes even put an offer in for less than what the seller is asking for. Sellers could also be more motivated during a buyer's market because there is less competition.
If I bid under asking in a seller's market, there is a very slim chance of my offer being accepted. If I bid under asking in a buyer's market, the chances of my offer being accepted are much higher. Hopefully this means I won't have to overbid on a house again when the market shifts.
So yes, a higher interest rate does mean a higher monthly payment, however, look at all the ways you can make up for that. You can negotiate a lower sale price, you most likely won't be overbidding and you can ask for seller's assist as well.
Refinance for a Lower Interest Rate Later On
Like gravity, interest rates that go up, must eventually come down. Even though I might secure an interest rate at 6.00, 7.00 or even 8.00%, I know that in a few years I will be able to refinance it for a lower rate. 30 years is a long time, and if I have to have a higher interest rate for the first five years of my mortgage to score a better deal, then so be it.
If you were able to buy a house through this crazy market, then that is awesome. If you're someone that gave up hope, but you're ready to try again, now is the time. I'm glad the rates are rising, so we can see some normalcy in this market, and so that I have a chance at buying a house in the near future.
For more information about buying a house or taking the next steps, reach out to the Diamond Mortgage Team.