December 3, 2021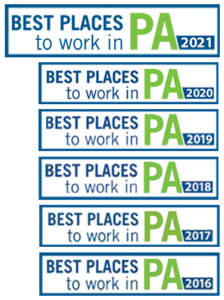 Diamond Credit Union was ranked as the twentieth best mid-sized company to work for in the 2021 Best Places to Work in PA survey and awards program. Diamond was notified in September that the organization had earned the award for the sixth consecutive year.
The rankings for the 2021 Best Places to Work in PA were revealed during a virtual ceremony held on December 2. During the ceremony attendees were surprised with speeches from Pennsylvania Governor Tom Wolfe and actor Michael Weatherly. Weatherly played Anthony DiNozzo in the television series NCIS.
"This award is a symbol for the hard workers, supporters and innovative team members that make Diamond one of the best," President and CEO of Diamond Credit Union John Faust said. "It's an honor to accept this award that represents all of our amazing employees."
What are some factors that led Diamond to be ranked number 20?
Opportunities to Grow
"When I first joined Diamond, I was a new graduate looking for a place to grow," DCU Marketing Associate Gabby H. said. "Shortly after, I was promoted into the Marketing Department, which is what I studied in college. It didn't take long for me to see how quickly Diamond promotes others from within too. It's good to know there will always be room for employees to improve and take on new roles."
Diamond Gives Back
Mortgage Originator Brenna E. said that one of the best parts about working for Diamond is the community engagement. "There are so many opportunities to help others through Diamond. Whether I'm helping a member with their finances, participating in Relay For Life or donating to a branch drive. Working here provides a chance to better the community in so many ways."
Positive and Passionate Employees
Photo Left/Above: Diamond staff took part in the annual employee Halloween contest in October. Employees are encouraged to have fun at work by dressing up. 
Another common reason among employees for working for Diamond is the positive atmosphere. Pottstown branch Head Teller Melissa G. said, "Everyone is very passionate about doing their jobs and going above and beyond to help members and staff. This mindset and attitude allows us to thrive and create a positive work environment."
Boyertown Branch Manager Laura B. puts an emphasis on one of Diamond's core values, blending hard work with fun. "There isn't a day that I leave work where I haven't laughed with my staff. Yes, we work hard to provide quality service to our members. We also know that we can have fun at the same time."
All of these reasons and more are why Diamond was ranked in the Best Places to work in PA awards. If you want to experience younity for yourself, consider joining team Diamond.
Creating a work-place culture that inspires growth and opportunity…that's younity.