August 10, 2016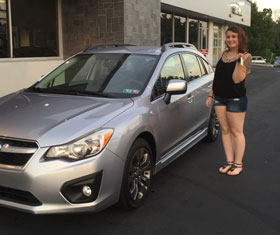 The pure excitement of buying your first car is right up there with receiving a college acceptance letter or your first job offer. Holding the keys to your new (or new to you) car is like a right-of-passage into adulthood. This purchase gives you a level of financial responsibility that can be nerve-racking and invigorating all at the same time.
Instead of running to the dealership to buy the hottest car on the lot, step back and think about the big picture. Ask yourself what your next five, ten, or fifteen years might look like. Keep in mind your job, your income, the number of passengers you'll have, and the amount of baggage and/or groceries you'll lug. Since buying a car is a considerable investment, it's important to commit to a car that's right for you and your lifestyle.
We've outlined five things to do before making a car purchase, so you can keep that "car buying euphoria," instead of letting stress ruin your big moment.
Know Your Lifestyle
Identifying your current lifestyle and the lifestyle you envision yourself having throughout the ownership of your vehicle will help you determine what kind of car to buy. Some things to ask yourself include:
Will I have a commute or will I be driving primarily short distances?
Compact cars and sedans are among the car models that tend to be fuel-efficient, maximizing the miles per gallon you use. Conversely, if you know you'll be using your car for shorter trips, fuel efficiency may not be as high on your priority list.
How much passenger space will I need?
Do you plan on driving your friends around everywhere or hope to have a few children in the near future? Choose wisely by selecting a car that has space for all of your favorite people.
How much trunk space will I need?
Will you need extra space for pet carriers, luggage, or large amounts of groceries? A Volkswagen Beetle might not be for you.
Weather Through It
Weather is not always taken into consideration when buying your first car, but if you live in a climate that has extreme weather conditions, this should be a contributing factor. For example, if you live in an area that has snowy/icy winters, a high-performance sports car might not make sense in unforgiving road conditions. This isn't the end of the road for car enthusiasts, though! While not all are recommended for icy roads, there are some sports cars that can sustain winter road conditions.
Conversely, if you live somewhere that has extreme heat in the summer months, you may want to steer clear of cars with dark exteriors and dark leather interiors. Studies have shown that light cars, such as white or silver, are on average ten degrees cooler than dark cars when left in the sun for the same amount of time.
New vs. Used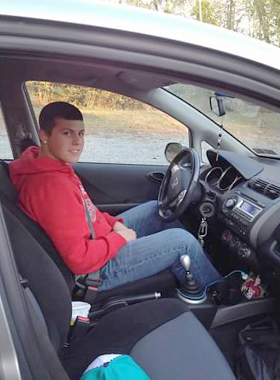 The reason for buying new or used is different for everyone. There are many things to take into consideration when looking at each option. Here are the caveats for each option to keep in mind:
Buying a New Car
Depreciation is said to be the largest expense of car ownership. In fact, Kelly Blue Book has a Cost of Ownership calculator, so you can see the costs of the vehicle you're interested in over a five-year period, accounting for depreciation. This information is helpful to see how quickly your car can depreciate in value. However, if you plan to drive the car "into the ground," then depreciation has no real effect on you as the owner.
Buying a Used Car
The main risk with buying a used car is the level of maintenance that could be necessary. You don't know exactly what the car has been through previously, so it is important to find out as much as you can before buying.
We recommend:
Having the used vehicle inspected by a qualified mechanic before buying
Obtaining a detailed vehicle history report
Total Cost of Your Car
Remember, the final price tag on the car is not the only number to look at. Before buying your first car, calculate the total cost of your vehicle. Aside from monthly car payments, you will have fuel costs, maintenance costs, and insurance costs to factor in as well. After identifying the total cost of the car, determine if it makes sense for your budget before committing to buying the car.
Financing Your Car
It is a good idea to talk to your financial institution before buying a car. Lining up auto financing in advance will give you a clear picture of what your rate and other credit terms are when shopping. You have the ability to compare the credit terms of several lenders to ensure you have the best options available to you.
Some questions to ask your lender about auto financing:
Are rates different for new and used vehicles?
Are payment plans flexible?
Is refinancing an option?
Once approved, can I purchase a car from any dealer?