April 7, 2021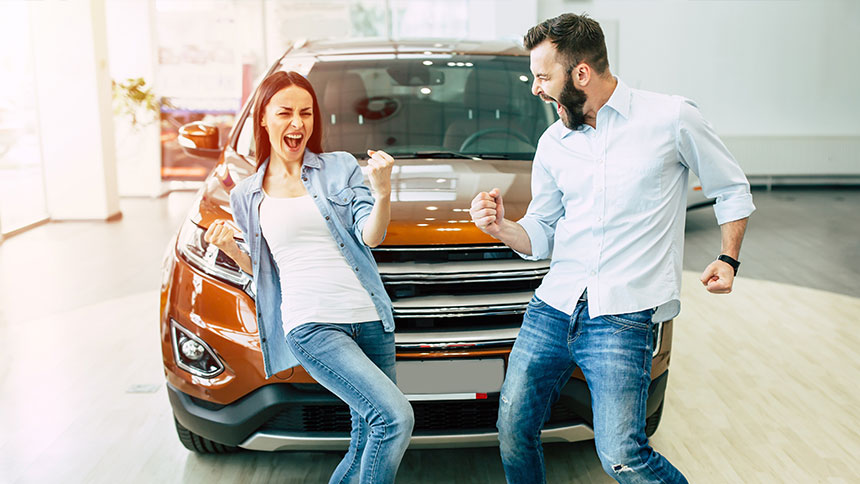 Few things in life are more exciting than purchasing your first car. But many first-time auto buyers struggle to navigate an unfamiliar process that can feel complicated and overwhelming. From pre-approval and co-signers to interest rates and MSRPs, there's a lot to consider. If you're not sure how to buy a car for the first time, this blog is the perfect place to start.
1. Do Your Research Beforehand
As a first-time auto buyer with little experience, it can be easy to fall in love with a top-of-the-line vehicle you can't actually afford. Doing your research beforehand and knowing all of your options will help you make the right decision. Start by asking yourself the following questions:
What will I primarily be using the vehicle for?
Do I want a new or used car?
What kind of gas mileage do I need?
How many people will I be transporting?
Once you have a solid understanding of your needs, use the online resources below to become a more educated auto buyer:
2. Think Twice About Leasing
First-time auto buyers are often tempted by leasing since it has a smaller down payment and lower monthly payments. Leasing is also reported on your credit report, so it may help you build credit if you don't have much history.
However, leasing isn't usually the best option for first-time buyers because you're sinking money into a vehicle you don't own. And when your lease is up, you'll have to find another car and start making a new set of monthly payments.
When you purchase a vehicle, you won't have to make any payments once your loan is paid off. Instead, you can use the money you were spending on monthly payments to pay down other debt or pad your savings.
3. Stick to a Realistic Budget
Creating — and sticking to — a realistic budget is the best way to ensure you can handle your monthly payment. Plus, budgeting keeps you grounded and focused on vehicles you can actually afford. And when you know your budget, you may be able to reduce unnecessary spending and make a larger down payment.
Financial experts recommend keeping your monthly payment below 15% of your take-home pay. Make sure you factor all expenses into your auto budget, like gas, insurance, maintenance, and repairs.
4. Understand All of Your Financing Options
One of the most important steps to buying a car for the first time is understanding all of your financing options before going to the dealership. While you can finance through the dealer's lender network, you can also secure traditional financing through a credit union or bank.
Keep in mind that dealers will present you with the option that makes them the most money, rather than the one that saves you money in the long run. In fact, dealership loans can carry interest rates of up to 17% depending on your financial situation.
Experts recommend loan terms of no longer than 60 months to cut down on the overall amount you pay in interest. However, longer loan terms are popular with first-time auto buyers since they carry lower monthly payments. According to Paul Yacobowsky, Diamond Credit Union's Director of Sales, "with today's average auto price, we commonly see 66-84 months."
5. Get Pre-Approved Before You Shop
Getting pre-approved by an outside lender (like Diamond) gives you valuable negotiating power at the dealership. When you get pre-approved, you're essentially a cash buyer, which means you have more leverage to advocate for yourself. Always shop around with multiple lenders, and ask the dealer to beat your pre-approval rate. And be sure to apply to all of your lenders within 14 days to avoid multiple hard credit inquiries.
6. Make a Solid Down Payment
While the details may vary, most lenders want a 20% down payment on a new vehicle or 10% on a used one. Putting 20% down helps ensure you'll never owe more than your car is worth, which is crucial because new cars depreciate quickly during the first year of ownership.
Dealerships, automakers, and third-party lenders have online down payment calculators to help you determine exactly what you can afford. Consider making a larger down payment on a less-expensive vehicle for a shorter loan term, better interest rate, and more manageable payments.
7. Pay Attention to Your Credit Score
If you're like many first-time auto buyers, you may not have built up much credit history yet. Regardless, knowing your credit score gives you an idea of the loan terms you might qualify for. If you're buying a car with no credit (or bad credit), dealerships are more likely to fund you than third-party lenders. However, your interest rate will probably be higher since you're considered a risk. Even so, buying a vehicle and making full payments on time will help you develop your credit history and improve your credit score.
8. Consider Getting a Co-Signer
A trusted friend or family member can co-sign on your loan if you don't have much credit history or have a low credit score. Having a co-signer on a car is ideal for younger buyers who don't have a steady income yet, but need a vehicle to pursue their goals. If you default on your loan, your co-signer accepts full responsibility for making payments.
9. Don't Overlook Used Vehicles
While you may have your heart set on a new car, gently used vehicles are often the best choice for first-time auto buyers. In most cases, cars that are less than five years old have the same bells and whistles as new ones. Plus, you'll avoid the 40-60% depreciation that occurs within the first three years of new vehicle ownership.
Another good used car option is purchasing a 2-3 year old vehicle that's coming off a lease. There's no MSRP, so you'll have more negotiating power than usual. Plus, most dealerships sell certified pre-owned vehicles that come with limited warranties. Regardless of where you buy, always get a vehicle history report from CARFAX or AutoCheck if you're considering a used vehicle.
10. Get An Independent Inspection
Never sign on the dotted line for any new or used vehicle without getting an independent inspection. Most garages offer comprehensive pre-purchase inspections that are well worth the money. If the dealership has already inspected a pre-owned vehicle, get a written report for your mechanic to review. Most importantly, never purchase a vehicle from a seller that resists an independent inspection.
11. Don't Be Afraid to Negotiate
While you may be hesitant to negotiate as a first-time auto buyer, it's key to advocate for yourself. As mentioned previously, doing your research and getting pre-approved gives you a lot of negotiating power. As you're haggling with the dealership, be sure to negotiate both the overall price of the vehicle and your loan terms, including length and interest rate.
If you want to score the best deal possible, shop at the end of the year when dealerships want to clear their lots. If you need a vehicle sooner, consider buying at the end of the month when sales staff are trying to meet their quotas. For an accurate idea of what people near you have paid for the vehicle you're interested in, check out the Kelley Blue Book Fair Purchase Price tool.
12. Don't Quote a Monthly Payment
One of the biggest mistakes shoppers make is quoting dealerships a monthly payment amount, rather than the overall amount they're willing to spend. When you give the dealer a monthly payment figure, there's room for them to increase the overall price through a longer loan. And while longer loan terms, low monthly payments, 0% interest rates, and zero down payment offers are appealing, they almost always cost you more in the end.
13. Consider a First-Time Auto Buyer Program
Our final first-time auto loan tip is to look into programs from credit unions, banks, and automakers. Many lenders have first-time buyer or limited credit programs that allow you to buy without a co-signer, even if you have very little credit. Additionally, some automakers have first-time auto loan programs for college students or recent graduates.
If you're searching for a first-time auto buyer program, look no further than Diamond. We'd love to help you build your credit history and get behind the wheel of your first car. Contact us today to learn more!