September 15, 2016

Diamond Credit Union is proud to Support Berks Encore as part of the annual United Way Day of Caring.
On September 15, 2016, volunteers from Diamond Credit Union supported Berks Encore at the Birdsboro Senior Community Center. As their United Way Day of Caring project, volunteers planned a birthday bash for the center's regular visitors, some of whom may not have had the luxury of a birthday party this year. No matter when their actual birthday is, seniors were invited to come celebrate with games, activities, and of course cake. The participants enjoyed the party and thought it was especially funny when a Diamond volunteer got cake on her white "Live United" t-shirt.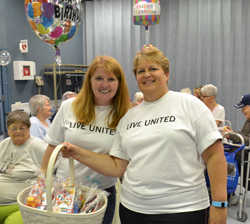 "We're so thankful for the opportunity to get out into the community and help our local United Way organizations. The culture at Diamond CU promotes volunteerism and community involvement and the Day of Caring is a great compliment to that. We always have more people who want to volunteer than we can accommodate, which is a fantastic problem to have," stated the leader of this event, Monica McCoach, Diamond Credit Union Human Resources Associate.
Diamond Credit Union is a huge supporter of the United Way of Berks County and the United Way of Greater Philadelphia and Southern New Jersey. In addition to participating in the Day of Caring, Diamond recently donated back-to-school supplies to two other United Way organizations, and the entire staff is gearing up for their 16th consecutive year of 100% employee participation in their 2016 United Way pledge drive.
Actively contributing to the well-being of our community…That's younity.