October 13, 2021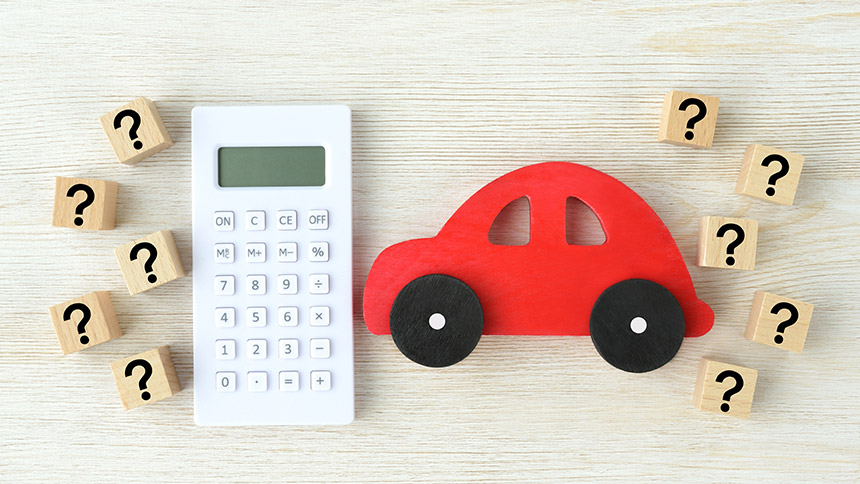 While the average monthly payment on a new car was $575 in Q2 of 2021, this doesn't reflect the true cost of owning a car. In fact, for most people, the actual total cost of car ownership is $10,800-12,000 per year. The true cost of owning a car includes depreciation, loan interest, fuel, insurance, and maintenance costs, among other factors.
Knowing exactly how much you're spending on your car helps you stay within your budget and prepare for unforeseen emergencies. In this blog, we'll review what makes up the true cost of ownership for vehicles to help you make an informed buying decision.
What is the Total Cost of Ownership?
In general terms, the total cost of ownership is the purchase price of an asset plus the expenses required to operate it. Ultimately, it's a more holistic and comprehensive way of assessing what an item actually costs you by factoring in both the short- and long-term expenses.
The fixed costs of owning a car include insurance, licensing, registration, and taxes, while the variable costs of owning a car include maintenance, repairs, and fuel. When taken together, these expenses create the total cost of vehicle ownership.
Depreciation
Simply put, depreciation is the amount by which a vehicle's value declines from the purchase price to its estimated resale value. To determine how much your car has depreciated, get a current offer for its resale value and compare it to what you originally spent. You can determine your car's resale value through Kelley Blue Book or by getting an offer from your local CarMax.
Driver's License
The costs associated with getting and renewing your driver's license vary by state and range from $10-89 in 2021. You'll be charged a fee to renew your license, which expires after a set number of years depending on where you live.
Fuel
While the national average fuel cost for most people is $1,500 per year, gas prices vary depending on location. Ultimately, the amount you pay for fuel is determined by your vehicle's miles per gallon (MPG) and the specific cost of gas where you live.
Not sure how much you spend on fuel each month? Simply divide the number of miles you drive by your car's fuel economy rating and multiply that figure by the price per gallon in your area. If you're looking to save money on fuel each month, check out the tips below:
Avoid aggressive driving
Keep your tire pressure at recommended levels
Use regular or mid-grade gas (unless your vehicle requires premium)
Take public transportation when possible
Buy a fuel-efficient vehicle
Inspections
According to PennDOT, an annual inspection "ensure[s] that vehicles are maintained for safe operation, helping prevent vehicle failure on highways and crashes that may result in injuries or death." During an inspection, a trained technician will examine your car to determine whether its components are running properly or if they need to be replaced now or in the near future.
Inspection fees are posted at all official inspection stations and do not cover repairs. Along with your annual inspection, courtesy inspections are often performed during oil and tire changes. Keep in mind that some insurance companies may require an additional inspection before insuring a vehicle that's over ten years old.
Insurance
As of 2021, the national auto insurance average is $132.60 per month. However, annual rates vary significantly based on factors like:
Your age and marital status
Your credit score
How often you drive your car
Where you live
Your vehicle make, model, year, and body type
Keep in mind that your insurance rate may go up due to a traffic violation, and you'll also be responsible for covering your deductible after an accident.
Loan Financing Costs
If you take out a loan to purchase your new car, you'll be responsible for paying the APR (annual percentage rate) of the loan principal to your lender every year. The APR is added to the amount you borrow and paid back in monthly installments over the life of the loan.
Be sure to look for the lowest APR available, since higher rates mean you'll spend more in the long run. Most people pay around $669 per year in financing costs, assuming they put 10% down, have excellent credit, and take out a five-year loan.
While loan financing charges vary based on your down payment, credit history, and loan length, they typically include finance fees and interest accrued on the loan. However, it's important to note that Diamond's rates are not affected by your down payment amount.
Maintenance & Repairs
Regular maintenance and prompt repairs keep your vehicle running smoothly and reduce the likelihood of more serious problems, thereby lowering the true cost of owning a car. Maintenance falls into two categories: scheduled and unscheduled.
Scheduled maintenance refers to factory-recommended services that are performed at periodic mileage or calendar intervals. This includes things like oil changes and tire rotations, both of which are typically done every 5,000 miles.
Unscheduled maintenance includes wheel alignments and replacing parts like batteries, brakes and/or brake pads, engine air filters, exhaust system parts, headlights, hoses, taillights and turn signal bulbs, tires, and wiper blades or inserts.
Studies show that the national average cost for repairs and maintenance is $111.75 per month for a new car. Once your vehicle is out of warranty (typically after three years or 36,000 miles), be sure to set money aside for repairs each month. Keep in mind that repair and maintenance costs increase once cars reach 100,000 miles, since they're more susceptible to wear and tear.
Purchase Taxes
Charged at the time of purchase, these fees are a percentage of the sticker price that vary based on your state's sales tax. Purchase taxes on used vehicles are lower than new ones, since older cars are continuously depreciating. In some cases, you'll pay ad valorem excise taxes, which are based on the price of your car and its depreciation over time.
Registration & Tags
Your vehicle must be registered with your state's Department of Motor Vehicles (DMV) or transportation agency. This involves providing information about you and your vehicle and paying an annual fee that varies by state. You'll also need tags, which are placed on your license plate to provide proof of registration. It's important to know that some states (like Pennsylvania) have discontinued registration tags.
Title
A title is a legal document issued by the state that establishes proof of vehicle ownership. Titles are reissued when a car is sold to a new owner or if the current owner moves to another state. Vehicle titles include the following information:
Identifying information (VIN, make, model, year, and color)
Owner's name and address
Title issue date
Odometer reading at date of title issue
Any outstanding liens
Check Out the Edmunds True Cost to Own® (TCO®) Calculator
Want to determine the total cost of ownership before purchasing your next vehicle? The Edmunds True Cost to Own® (TCO®) calculator provides the five-year costs of car ownership based on the assumptions below:
You drive 15,000 miles a year
You're financing traditionally
You have an above-average credit rating
You're putting down 10% at purchase
Your loan term is 60 months
Apply for the Diamond Auto Express Loan
Like the housing market, vehicles are moving quickly, inventories are low, and conditions are highly competitive. However, the Diamond Auto Express Loan can help you buy more quickly, stay on budget, and avoid financial surprises.
If you're interested in the Auto Express Loan, simply follow the three easy steps below:
Get pre-approved, sign the disclosures, and receive your check.
Go car shopping and negotiate your best deal with cash in hand.
Fill out your check for up to the maximum amount you're pre-approved for and drive away.
Here are a few conditions to keep in mind before you apply for our Auto Express Loan:
Maximum loan amount of $60,000 with a maximum loan term of 72 months.
Not applicable on vehicles over six years old.
Check is valid for 90 days after the date of issue and must be presented to a certified Pennsylvania franchise dealership that's represented by a manufacturer.
Diamond offers a variety of auto and motorcycle loans for members with appealing terms and conditions. Contact us to learn more and apply for the Diamond Auto Express Loan!