January 11, 2019
Is a new home on the horizon for you this year? Before you start your homebuying journey, it's important to know some of the 2019 homebuyer trends that may affect your purchase. In addition to national real estate trends for 2019, we've also included information on Pennsylvania housing market predictions, and more specifically the Berks County housing market.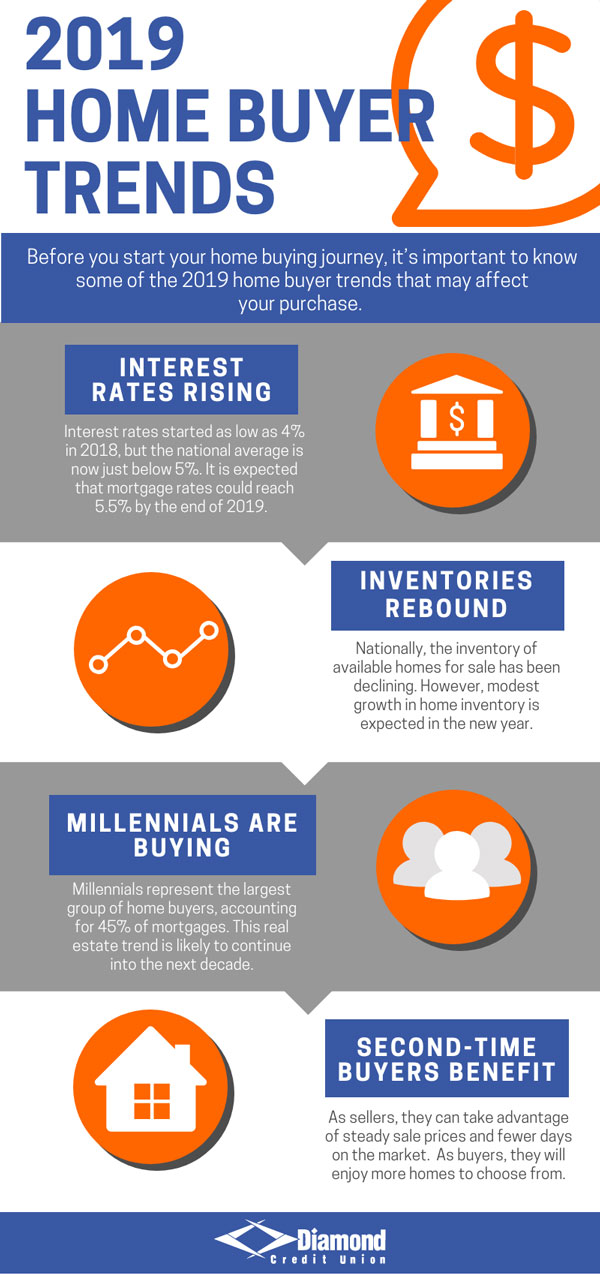 Interest Rates on the Rise
In 2018, mortgage interest rates were on the rise. While they started as low as 4%, the national average is now just below 5%. It is expected that mortgage rates could reach 5.5% by the end of 2019.
Climbing interest rates may deter some buyers because a higher rate will increase their monthly payments. But the reality is that a higher interest doesn't necessarily put your monthly payment out of reach. The difference between a $100,000 mortgage payment at 4.5% and 5% is approximately $30 per month. At 5.5%, the difference in payments is just above $60.
Ben Huard, Sr. Real Estate Originator at Diamond Credit Union, provides further insight on how homebuyers can deal with rising interest rates. "When shopping for mortgage products, keep your long-term picture in mind. You can't necessarily count on refinancing your home in the coming years to get rid of Private Mortgage Insurance (PMI). Yes, your property value may go up but if rates continue to rise in the coming years, the benefits of getting rid of PMI will be cancelled by refinancing at a higher rate."
"Even if you can't afford a full 20% down payment, which allows you to avoid PMI, saving a down payment that is larger than the minimum required will still save you money. Not only will you finance less and pay less as a result but the monthly amount you pay for PMI will be lower and, if your mortgage allows it, may cancel faster."
Slow Rebound in Home Inventories
Another 2019 homebuyer trend to watch for is a modest growth in the inventory of available homes for sale. Nationally, inventory has been declining. When potential sellers have trouble finding a new home, they are reluctant to put their home on the market.
This housing market trend also holds true locally. As of November 2018, the new home inventory in the Reading/Berks County region was at 1,222 homes. This equates to a three-month supply of homes and is down 26% from the year prior. However, like much of the country, a rebound of home inventory is expected in the new year.
Huard also offers advice for homebuyers who are faced with low inventories. "The current trend that we're seeing is that inventory is lacking. Most of the realtors we know are actively looking for homes to list. If you're looking to purchase in the spring, now is a good time to get pre-approved so that you can jump on any opportunities you find. Otherwise you risk losing a home to another buyer in the time it takes you to get pre-approved."
Millennials Are Buying
Currently, millennials represent the largest group of homebuyers, accounting for 45% of mortgages. In comparison, Gen Xers account for 37% and baby boomers account for 17%.
This real estate trend is likely to continue into the next decade. As the majority of millennials reach the age of 30, the year 2020 is projected to be the peak for millennial homebuying. By this point, many will be selling their starter homes and moving into forever homes.
Many millennials also carry a large amount of student debt, which, along with rising interest rates and lower down payments, can limit the amount of money they spend on a new home. For this reason, homebuyers in this generation are much more willing to put in the time and costs necessary to renovate less-than-perfect homes.
Second-Time Buyers Benefit
The housing market in 2019 will also be ideal for second-time homebuyers or move-up buyers. Homeowners looking to size up or size down can take advantage of both home seller and homebuyer trends. As a home seller, they can benefit from home sale prices that remain steady and an average number of days on the market that is down from the previous year. As a buyer, they will enjoy rebounding home inventories with more homes to choose from.
Real Estate Trends in Berks County
Here is a glimpse at what the housing market in Berks County looks like as we enter 2019. As of November 2018, local real estate statistics included:
Home Inventory: 1,222 (down 26% vs. Nov 2017)
Median Sales Price: $165,000 (no change vs. Nov 2017)
Days on Market: 47 (down 18% vs. Nov 2017)
Units Sold: 393 (down 5% vs. Nov 2017)
Although home inventory is down, new home listings typically rebound in the spring as warmer weather arrives, making it the best time for potential homebuyers to get started. Sellers can take advantage of the decreasing days on market, selling their home more quickly. Finally, homebuyers and sellers can both take advantage of sales prices that are holding steady from the previous year.
Are you looking for more insight into 2019 homebuyer trends and Pennsylvania housing market predictions? It's time to talk to the local Mortgage Experts at Diamond Credit Union.