October 18, 2018
October is the start of sweater season, pumpkin spice season, and — did you also know — the start of homebuying season? If you want to take advantage of a calmer market and purchase at the lowest prices, the best time of year to buy a house is October through February.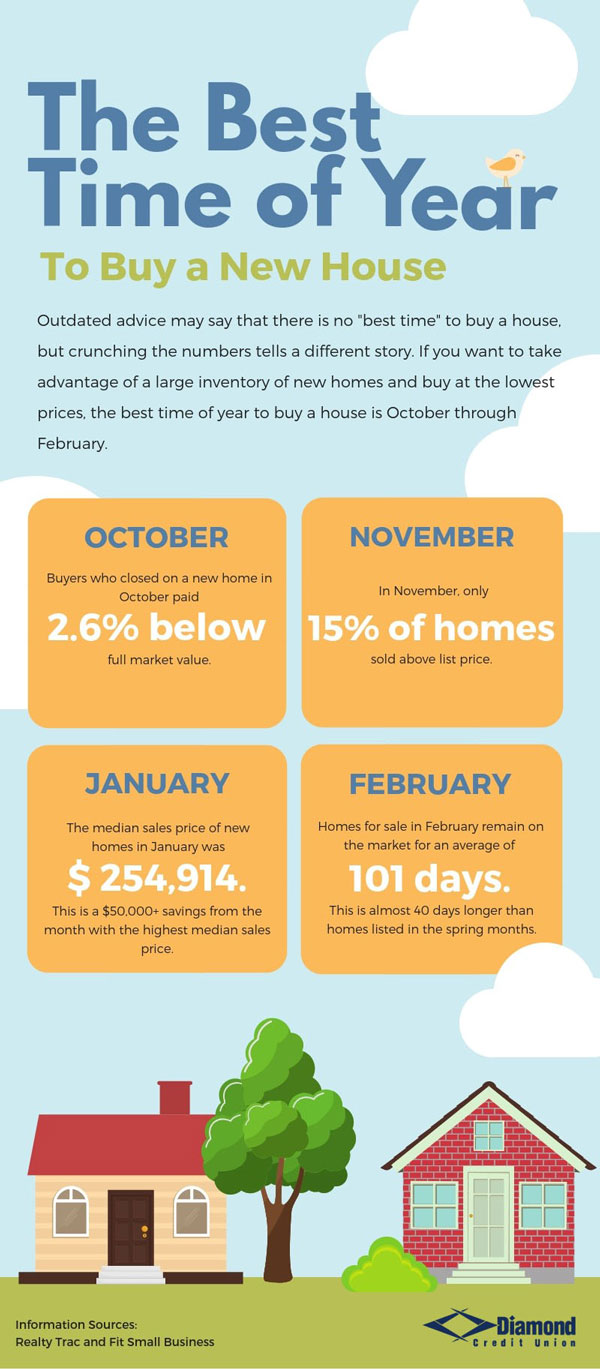 Best Month To Buy A House
House hunters are often told, "there is no perfect time to buy a home," but crunching the numbers tells a different story. After tracking more than 32 million single-family home and condo sales over the past 15 years, real estate analysis firm, RealtyTrac determined that the best month to buy a new house is during the month of October.
Since 2000, there have been 2.7 million home closings in the month of October and, overall, buyers are getting their new homes for 2.6% below the estimated full market value.
Want to get even more specific? RealtyTrac research shows that the absolute best day to buy a new home is October 8. Buyers who closed on their new home on this date ended up purchasing for 10.8% below the estimated full market value.
And it's not just October. In December, January, and February, buyers were paying between 2.1% and 2.4% under market value for a new home.
Best Season To Buy A House
After surviving the holidays and spending the winter hiding from the cold weather, you might be tempted to jump-start your house hunt as soon as spring arrives. You and everyone else that is! While there is a jump in the number of newly listed homes for sale in the spring, there is also a lot more competition for these homes and they sell faster. This seller's market scenario often leads to homebuyers getting into bidding wars and paying more for their new home.
The best seasons to buy a house are in the fall and winter. In the fall and winter, homebuyers face far less competition for available houses, which allows them to make level-headed choices when writing an offer on a new home. Additionally, late in the year homes tend to stay on the market much longer (104 days in January compared to 67 days in June). This can lead to worn-out sellers who are tired of keeping their home "show ready." The longer a home has been on the market, the more negotiating power a potential homebuyer holds and the more willing a seller will be to accept a less than ideal offer.
Additionally, October through December may be the best months to buy a new home because you'll see the tax benefits much sooner! Buying in the fall and winter allows you to make tax deductions in April, including your closing costs, property tax, and mortgage interest.
Fall, winter, spring, or summer — whenever it's the best time for you to buy a new house, talk to the mortgage experts at Diamond Credit Union to get started.