September 6, 2019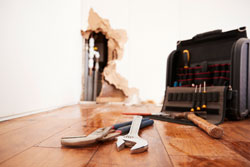 A new home is probably the biggest purchase you will make and protecting that investment should be your priority. That comes down to purchasing homeowners insurance coverage and understanding your homeowners insurance policy. Not only does homeowners insurance protect your home and your belongings from theft, fire, accidents and even the weather, but it's also a necessity to receive a mortgage.
Homeowners insurance is often misunderstood because it protects more than just your physical home and the items inside. For example, did you know homeowners insurance covers an engagement ring lost in New York City, even if you live in Pottsville? Here's what you need to know about purchasing homeowners insurance for your new home and the coverage it provides.
Why Do I Need Homeowners Insurance for a Mortgage?
As part of the new home closing process, you'll need to provide proof of a homeowners insurance policy covering your home. Why is this necessary? Although you pay a down payment on your new home, your lender is putting up most of the money to purchase the home. Requiring adequate homeowners insurance gives them the peace of mind of knowing that their asset is protected. If your home was lost in a fire or natural disaster and you didn't have homeowners insurance, your lender would lose out just like you would.
During the mortgage process, your lender will create an escrow account in your name. In addition to paying principal and interest, your monthly mortgage payment will also include a payment to your escrow account. Your lender will use the funds in this account to pay for your property taxes and homeowners insurance, as they are due.
How Much Homeowners Insurance Coverage Do I Need?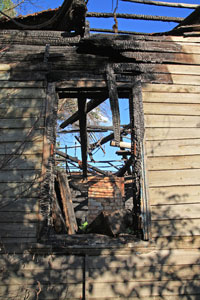 In most cases, your lender will require that you purchase enough hazard coverage to cover the amount of your loan. If you purchase a $250,000 home with a $20,000 down payment, then you'd be required to carry $230,000 in coverage.
Depending on the age and location of your home, your lender may look at the replacement cost of the home versus the market value when determining the amount of homeowners insurance you should carry. An older home, in an older neighborhood may have a market value of $180,000. But, the price to rebuild that same home, in the same location could be $250,000 with today's construction costs. In this case, you'd be asked to carry insurance that's more than the market value of your home.
"A sometimes-overlooked part of the homebuying process is how important it is to have proper insurance coverage. It may be worth paying a little more on an annual basis to ensure proper coverage rather than just the minimum," says Ben Huard, Sr. Real Estate Originator at Diamond Credit Union.
If you're able, you may want to carry additional homeowners insurance coverage to protect more than the structure of your home. Here's a breakdown of the different components of a homeowners insurance policy:
Hazard Coverage
Hazard insurance covers the structure of your home and helps you repair or rebuild if your home is damaged from fire, hurricane, hail, lightning, or other listed disaster. A typical homeowners insurance policy usually does not cover damage from floods, earthquakes, or general wear and tear. Detached buildings like garages, sheds, or barns are also covered through your hazard coverage.
Additionally, hazard coverage will help you replace personal belongings, such as furniture, clothes, jewelry, electronics, etc., if they are stolen or destroyed. What many homeowners forget is that their personal property is protected inside their home, as well as off-premises — anywhere worldwide. So that engagement ring lost in New York City is covered!
Liability Protection
Beyond the structure of your home and your possessions inside, homeowners insurance coverage can also encompass the costs associated with bodily injury or property damage that you or your family (or your pets) cause to other people. If your daughter's strong soccer skills cause damage to a neighbors' window, liability protection can cover the cost of replacement. It also provides no-fault medical coverage if someone is injured on your property — from tripping on an area rug to slipping on an icy sidewalk. It can also help with the cost of defending you in court or covering court awards associated with injuries.
Additional Living Expenses
If you are temporarily unable to live in your home during a repair or rebuild process caused by a fire or other insured disaster, your homeowners insurance policy may cover a portion of your living expenses.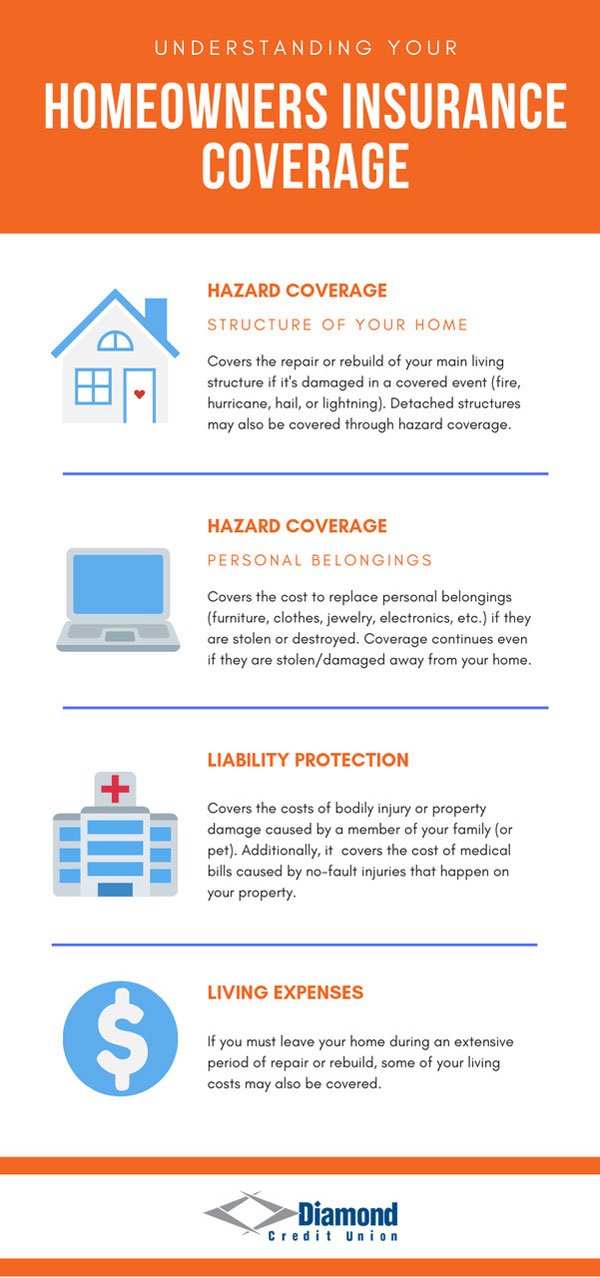 If you have additional questions on the role that homeowners insurance plays in the mortgage process, you can contact the mortgage experts at Diamond or explore our Mortgage Center.