June 11, 2018
Diamond Credit Union was honored among the Top 50 Businesses in Greater Reading on May 31. The award was presented at the Greater Reading Chamber Alliance's annual awards dinner. 2018 marks the 11th consecutive year Diamond has been on the list.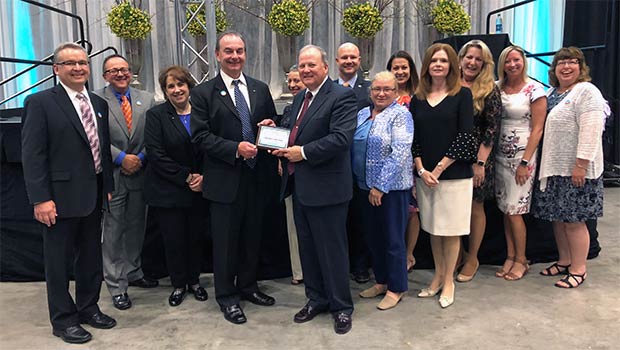 Diamond Credit Union board members and staff pose with the Greater Reading Chamber Alliance's award for being one of the area's Top 50 Businesses.
Terry Bradshaw, the current Fox Sports football analyst, delivered the keynote address. The former quarterback led the Pittsburgh Steelers to four Super Bowl victories. Bradshaw is in the Pro Football Hall of Fame.
"It is exciting to be recognized by experts in the business community," said John Faust, President/CEO of Diamond Credit Union. "We truly appreciate this honor and thank the greater Reading area for their belief in Diamond which has fueled our growth in the community."
Diamond was ranked 19th overall and first among credit unions. The nominations for the Top 50 Businesses are compiled by KPMG, a financial services firm.
In addition, Diamond recently accepted a People's Choice Award, also for the 11th time. Diamond has been recognized as one of the Best Places to Work in Pennsylvania for two consecutive years.
Diamond Credit Union has branches in Pottstown, Wyomissing, Exeter, Boyertown, Reading Hospital, and will open a new branch in Royersford this fall.