June 9, 2022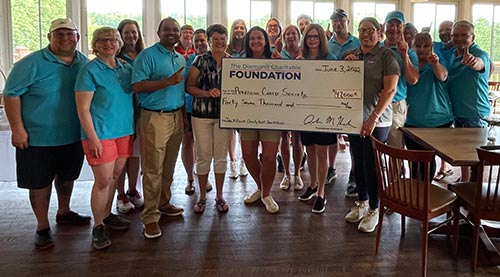 Photo (left/above): Diamond Credit Union volunteers presented the American Cancer Society with the $47,000 donation from The Diamond Charitable Foundation.
Diamond Credit Union's John M. Faust Charity Golf Invitational took place on Friday, June 3 at Golden Oaks Golf Club and raised $47,000 through The Diamond Charitable Foundation to benefit Relay For Life.
This is the 17th Golf Invitational Diamond has held, but 2022 marks the first year under the new name to honor retired Diamond Credit Union President/CEO, John Faust.
"I am humbled by the support we have seen over the last 17 years since starting this tournament," Retired Diamond President/CEO John Faust said. "To raise $47,000 for a cause close to my heart, and Diamond's, is an incredible feeling and a great way to start off the tournament's new name."
A Day of Golf
This year's tournament consisted of an AM and PM session with over 180 participants. Golfers could compete in competitions around the course in addition to their normal game of golf.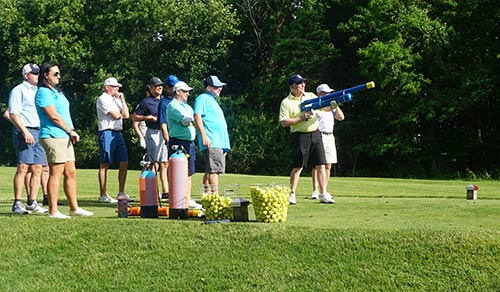 Photo (right/above): Golfers at hole 17 fired the Golf Ball Canon to tee off.
They also had the chance to win a variety of raffle prizes. Prizes ranged from sporting event tickets to golf gear, coolers and more.
This year's donation from the Golf Invitational was a record-breaking amount for Diamond Credit Union. Diamond has currently donated over $1 million to Relay For Life to support the fight to end cancer.
"This event truly brings That's Younity to life," Diamond President/CEO Rick Patel said. "It is an honor to stand with my fellow colleagues and supporters as we help fight to end cancer together."
Thank You for Supporting Relay For Life
Diamond Credit Union wants to thank everyone that supported this year's Golf Invitational. The John M. Faust Golf Invitational wouldn't be possible without the sponsors, participants and volunteers that made it happen.
Coming together to fight a merciless disease…that's younity.