July 21, 2021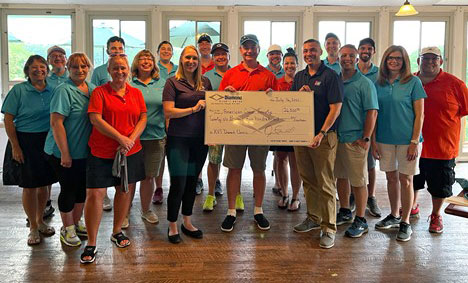 Photo: DCU President and CEO John Faust (middle) presents the American Cancer Society with the 2021 Golf Invitational donation.
The 16th Annual Diamond Credit Union Charity Golf Invitational took place on Friday, July 16th at Golden Oaks Golf Club to benefit Relay For Life.
The Diamond team waited over a year to bring this event back in action, and it was worth the wait. The golfers may have been competing against one and other, but they worked together to raise $26,500 for the American Cancer Society's Relay For Life.
"We can't explain how good it feels to be able to get back to fundraising for the American Cancer Society," DCU President and CEO John Faust said. "I can't thank you all enough for coming out and making this $26,500 donation possible."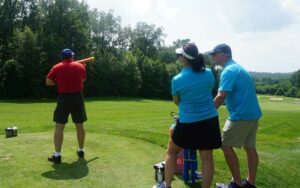 Photo: DCU Director of Retail Delivery Services, Chelsea F. and DCU Director of Branding, Rob H. observing a golfer firing the golf ball cannon.
This year's tournament brought golfers nothing but sunshine as they made their way through the course. The event consisted of one round of golf with 138 participants. In addition to the normal game of golf with 18 holes, Diamond had competitions scattered through out the course. Golfers could choose to play closest to the pin, enter the putting contest and shoot Diamond's golf ball cannon.
To make the day even better, golfers had the chance to enter to win a variety of raffle prizes. The prizes ranged from coolers to sporting event tickets to golf items.
This donation brings the Credit Union's total contribution to the fight against cancer to over $970,000.

Photo: One of the 35 groups of golfers that came out to support the Relay For Life.
Thank you for making the 2021 Golf Invitational a success
Diamond Credit Union wants to thank everyone for coming out and helping the organization raise money to support the fight against cancer. This event wouldn't have been possible without the sponsors, participants and volunteers that made it happen. The only bad news is that everyone has to wait a whole year for the next one.
Having fun while raising money for a good cause…that's younity.