May 11, 2022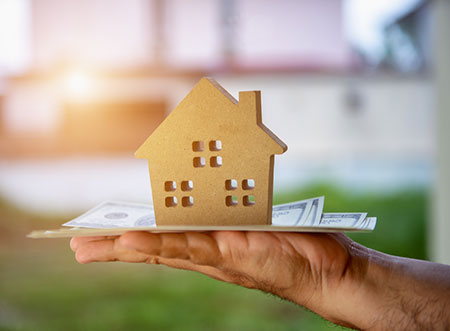 From the moment you purchase your home, you have the chance to start earning equity. Your home's equity can benefit you in many ways. Whether you have some home improvement projects on the back burner, are looking to consolidate debt or to even have a backup savings. Keep reading to see the difference between a Home Equity Loan and Line of Credit, and determine which product best fits your needs.
Understanding Equity
Home equity is the difference between what you owe on your mortgage and what your home is currently worth. If your home is valued at $200,000 and you have $150,000 left on your mortgage, that means you have $50,000 worth of equity. To learn more and gain a better understanding about home equity, read Home Equity 101: Why it Should Matter to You.
Now that you have a general understanding of what home equity is, you can use this to help determine whether a Home Equity Loan or Home Equity Line of Credit is the best option for your needs.
Home Equity Loan
A Home Equity Loan is a one-time loan with a fixed interest rate. It starts with a home appraisal, then onto determining how much you can borrow based on your home's equity.
Diamond Credit Union Mortgage Originator, Tyler E., suggests Home Equity Loans if a borrower is looking to use the funds for one specific project or to pay off debt. He explained that a Home Equity Loan allows the borrower to "be locked in, paid off, and done" versus a Home Equity Line of Credit.
Say you love your house, but you have outgrown your kitchen and need something more updated. If you're approved for a $40,000 Home Equity Loan, you would use that lump sum to pay for the renovations, and as you pay it back, your loan amount decreases. A Home Equity Loan works just like your car payment or mortgage.
A Home Equity Loan can also be used to make large purchases such as a new car, tuition payments, and more.
Home Equity Line of Credit
A Home Equity Line of Credit (HELOC) begins with the same process as getting a Home Equity Loan, but it uses your equity a little differently, and is a variable interest rate product.
A HELOC can be described as a revolving door of funds, that works similar to a credit card. If you're approved for a $40,000 HELOC, you can draw on those funds over a 7-year period, and you only make payments on the funds that you use.
For example, if you're renovating your bathroom for $10,000 from the HELOC, you would only pay interest on the $10,000. Then when you pay the $10,000 back, you would have $40,000 to pull from again and no payments. Throughout the 7-year draw period, you could pull funds for multiple projects, and once you pay it back you can use the funds again.
A HELOC is a good option if you have multiple projects in mind, unexpected expenses or to keep as an emergency fund backup. The funds are readily available and can be transferred into your checking account when you're ready to use them.
How Can Diamond Home Equity Products Help You During a Seller's Market?
A seller's market can make finding a home challenging. It means there isn't enough inventory to keep up with the amount of people looking for houses. This also means seller's can sell their homes for more than if it were a buyer's market.
You may have experienced this market firsthand. You need a different home to better fit your lifestyle but have struggled with finding one. This is where Diamond Home Equity products can make a difference for you. You can use the equity you've built so far to help you make your current home fit your needs.
Maybe a home equity product could help you add an addition to your home or update spaces for your family. Then down the line, your home's value will increase even more from the updates, and you could make a larger profit when you sell.
Home Equity products have many uses, from paying off debt, renovating spaces, to having backup funds and more. If you think a Home Equity Loan or Line of Credit could help you, reach out to Diamond's Real Estate experts to get started.