November 4, 2021
Diamond Credit Union is humbled by another successful Relay For Life season. 2021 brought forth new opportunities for supporters to come together to advocate for the American Cancer Society's Relay For Life. In total, the community came together to raise over $50,000 for Relay this year. This brings Diamond's overall donation to $1,029,696.03.
"To say we have surpassed $1,000,000 is almost unbelievable," President and CEO of Diamond Credit Union John Faust said. "I'm so proud of what Relay For Life has become today, and the everlasting effect it has on our communities."
Diamond Credit Union hosted and participated in fundraising events through out the year to support Relay For Life's dedication to end cancer. Events for 2021 included the Relay For Life Cancer Walk, the Annual Charity Golf Invitational, a Designer Purse Lottery and more.
Relay For Life Cancer Walk
Diamond's Hope sponsored the Pottstown Relay For Life Cancer Walk in September. They joined together along with other Relay teams to walk in support of anyone impacted by cancer. Kim D, HR Associate, spoke at the opening ceremony and rallied participants for a day of supporting a good cause.
"The Relay community is like no other," Kim D. said. "We know that it takes every single one of you, working together, to make an impact in the fight against cancer."
2021 Charity Golf Invitational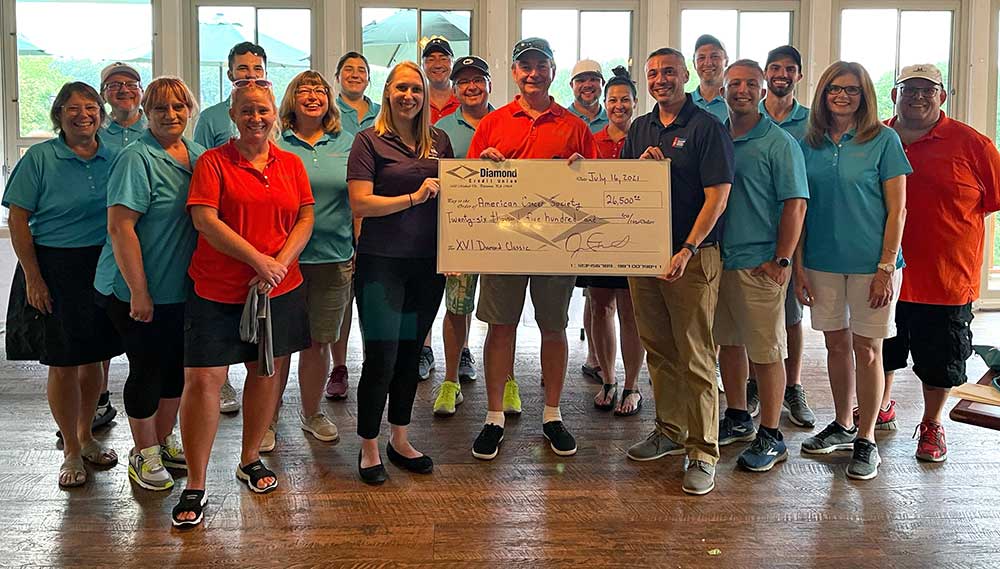 Photo: Diamond Credit Union President and CEO John Faust presented the check to the American Cancer Society at the Golf Invitational held in July.
The annual Diamond Credit Union Golf Invitational took place in July. About 140 golfers met at Golden Oaks Golf Club in Fleetwood to benefit Relay For Life. Participants came together to raise $26,500.
Designer Purse Lottery
For the entire month of June, community members participated in the first Diamond Credit Union Purse Lottery. When the evening Pennsylvania Lottery Pick 3 announced the winning numbers, those with the corresponding numbers won a designer purse. In the end, 14 lucky winners were able to take home a new purse while raising money for Relay For Life.
Thank You for Your Support
As the 2021 Relay For Life season comes to a close, Diamond wants you to reflect on everything you've contributed to make it successful. Whether you showed up to events to support the cause or you donated money to fund cancer research. Diamond Credit union thanks you for supporting the fight to end cancer.