April 25, 2023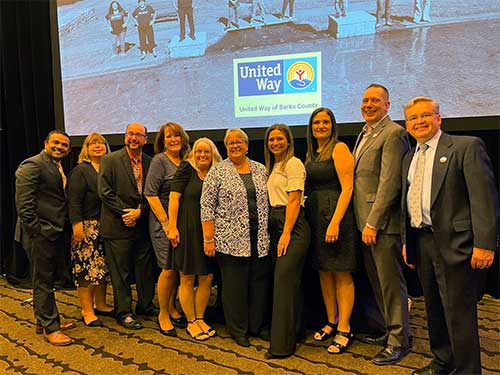 Photo (Above): Diamond Credit Union employees at the United Way of Berk's Impact Reflection Dinner on April 20.
Diamond Credit Union received recognition as one of the Top 100 Organizations for Outstanding Support given to the United Way of Berks County. The awards and ranking are based on 2022 corporate and employee workplace campaign contributions.
Along with the other organizations, Diamond helped raise $11 million through the 2022 campaign. That money goes towards providing help, hope and opportunity to more than 150,000 community members. Diamond was also recognized as one of the top ten companies with the highest rate of participation.
More Community News
Ks for Commyounity
Diamond's Ks for Commyounity began on April 11 at FirstEnergy Stadium in Reading, Pa. For every strikeout the Reading Fightin Phils record against their opponents at homestands this season, Diamond will donate $10 to a preselected local charity. Baseballtown Charities was the first recipient, and the organization received $490. There are 11 more organizations to benefit from Ks for Commyounity this season.
Events for Relay For Life
Diamond employees met at the Exeter branch on April 22 to host a Shredding Event for community members. People that came to shred made a donation to the American Cancer Society's Relay For Life. Diamond raised $895 with the help of everyone who came out to shred old files.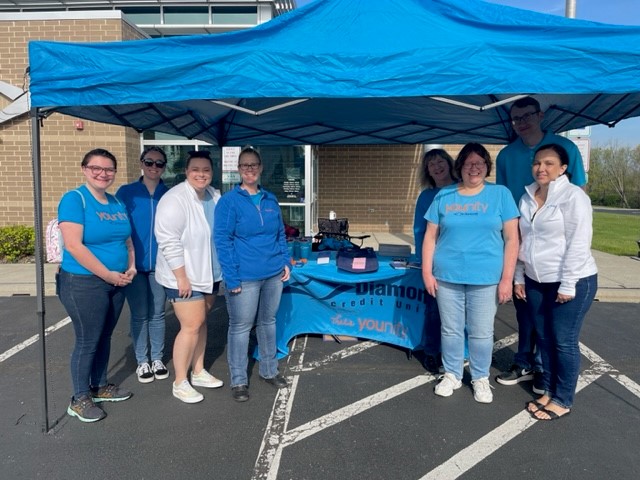 Photo (Above/Right): Diamond employees at the Shred Event on April 22 at the Exeter branch.
Diamond Credit Union is selling tickets for the Annual Designer Purse Lottery. When you buy a ticket, you have a chance to win a purse everyday in the month of June. Tickets can be purchased while supplies last or by May 31 for $40. Buy them online or stop at your local branch. All proceeds will benefit Relay For Life.
Boyertown's Coming Out of Hibernation
The Boyertown branch met on Philadelphia Avenue in Boyertown, Pa. on April 16 to spend the day with the community. At the event, employees spoke to community members about Diamond and handed out free giveaway items for them to enjoy.
Exeter Branch Staff Volunteered at Opportunity House
The Exeter branch staff volunteered at Opportunity House Shelter in Reading, Pa. on March 18. Employees prepared, cooked and served almost 100 community members. Opportunity House provides emergency shelter placement to homeless men, women, families, and Veterans.
Being involved in the communities we serve…That's Younity.