April 26, 2023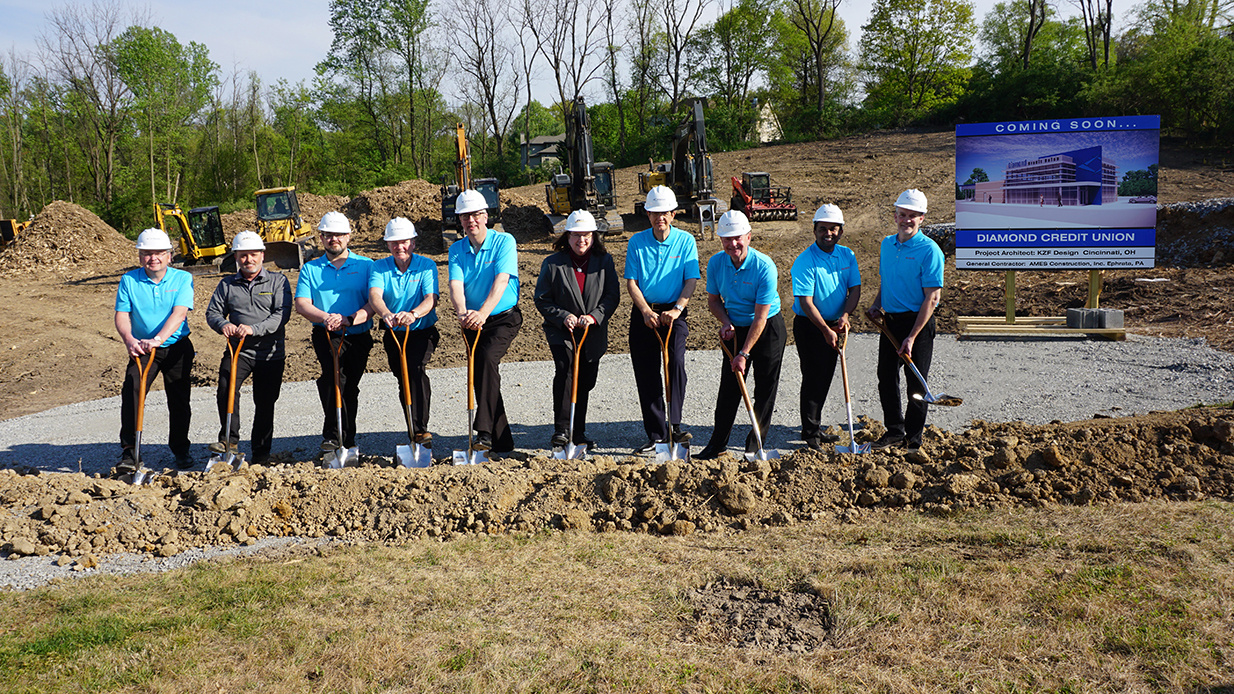 Photo L-R: Todd Rothenberger, Diamond SVP/Chief Member Experience Officer; Mark Yoder, AMES Construction President; Matt Sockel, Diamond Facilities Manager; Pat Austin, Diamond Chairman of the Board; Gene Carter, Jr., Diamond Vice Chairman of the Board; Jeanne Johnston, Township of Cumru Manager; Dr. Robert Hanna, CARBO Management Services – Developer; John Faust, recently retired Diamond President/CEO; Rick Patel, Diamond President/CEO; Jeff Evans, KFZ Design Vice President
Diamond Credit Union held a groundbreaking ceremony on April 25 at the site that will soon become the Cumru Branch.
The Cumru Branch will be the Credit Union's eighth branch, and will be located at 1030 Cedar Top Road in Reading, Pa. This is near the corner of Route 724 and Route 625.
The branch is expected to be 4,100 square feet and will have all of the features that Diamond members and employees currently use. Additionally, there will be self-serve kiosks that members will be able to utilize for their convenience.
"As Diamond grows so does our commitment to our members," Diamond's President and CEO, Rick Patel said. "We are looking forward to making a big impact on our community and Berks County."
At the ceremony, Patel reflected on everyone that was involved to make the opening of this branch possible. He thanked Diamond's employees and Board Members for their diligence with the new branch. Then he recognized the Project Architect, KZF Design, the General Contractor, AMES Construction, Inc., and Cumru Township's Board of Supervisors.
The organization is aiming to open the new branch in January 2024, and will continue to update members as information becomes available.
Photos (Below): These are previews of Diamond Credit Union's eighth location, the Cumru Branch.