March 16, 2022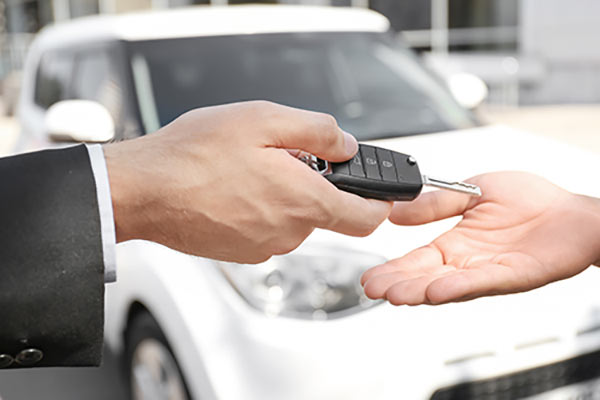 While the COVID-19 pandemic inspired many people to seek new employment opportunities, others were forced to find new jobs after being laid off or let go. If you're one of these individuals, you may be asking yourself, "can you get a car loan with a new job?"
If you have a steady employment background, strong credit history, and can afford the vehicle, you should have no trouble obtaining financing. However, if you don't meet all of these criteria, you may have to put more money down to demonstrate your commitment to the loan. Regardless of your situation, if you're interested in getting a car loan with a new job, our blog will help you prepare.
Be Prepared to Discuss Your Employment History
If you're applying for a car loan with a new job, you should be ready to provide detailed information about your employment history. Here are a few of the most common questions from lenders when it comes to buying a new car and starting a job:
Were you at your previous job for a long time, or do you change jobs frequently?
Were you let go from your last job, or did you leave for another reason?
Do you consistently work in the same field and earn a similar salary?
Is your new job in the same field as your previous one?
While underwriters want to see a consistent job history of around two years spent with each employer, they also understand that people change jobs for a variety of good reasons, like higher pay, relocation, and better working conditions.
Can I Get a Car Loan with a Job Offer Letter?
While job offer letters provide proof of employment and basic salary information, you probably won't be able to get a car loan with only a job offer letter. Most lenders require pay stubs with year-to-date income since your monthly take-home pay plays a major role in determining whether you qualify.
Job offer letters are also problematic because there's no guarantee for lenders that you'll stay with the new employer for an extended period of time. Depending on your specific situation, you may need to be employed for at least six months to receive car financing with a new job.
Can I Get a Car Loan with a Part-Time Job?
While it's possible to get a car loan with a part-time job, you'll need to have a good credit score and a sizable down payment. Full-time employees typically have a lower debt-to-income (DTI) ratio, which is the percentage of your monthly gross income that goes towards paying off your debts. Potential lenders will use your DTI (and total debt obligations) to determine whether you can make payments on your auto loan.
Can I Get a Car Loan with a Temporary Job?
You can get a car loan with a temporary job, but you'll probably have to wait until at least six months after you start working. However, this may be waived if you have a strong credit score, a low debt-to-income ratio, and are making a larger down payment. An extended employment history and no long stretches of unemployment may also make you more attractive to underwriters.
If you're a seasonal employee, you may have to provide bank statements or a few years of tax returns to supplement your pay stubs. Lenders need proof that you'll be able to make payments during the off-season, especially since unemployment earnings can't be used as proof of income for a car loan.
You'll Still Subject to the Usual Auto Loan Requirements
We've answered "can you get a car loan with a new job?", but what else is involved? Regardless of how long you've been with your employer, you'll need to provide all of the normal documentation required to qualify for an auto loan. Keep the following information in mind if you're asking yourself, "can I get a car loan with a new job?"
1. Proof of Income for a Car Loan
As mentioned previously, lenders use pay stubs with year-to-date income to verify that you'll be able to make payments on your auto loan. You may also be able to use bank statements or a W-2, or your lender may call your company to verify your employment status and income.
If you're self-employed, your lender will probably require 2-3 years of tax history and/or a 1099 form to verify income. Be sure to include additional income sources or other assets, as they can help you qualify for a larger loan with better terms.
2. Proof of Residence
Lenders will need proof of residence, which you can provide with a current driver's license or if the address on your credit application matches the one on your credit report. You may also be able to use a recent utility bill or bank statement with your current address. Keep in mind that your lender may require additional proof of residence if you've moved recently.
3. Proof of Auto Insurance
You'll need to provide lenders with proof of adequate automotive insurance that complies with all of your state's laws and meets any additional requirements. In some cases, your new vehicle may even be covered by your existing policy for a set grace period. Be sure to shop around for insurance coverage to get the best deal, rather than waiting until the day that you buy your new car.
4. Valid Identification
Lenders will require you to provide valid identification before approving your loan, which may take the form of a:
Driver's license
Government-issued ID
Passport
U.S. Visa
Title to your home or another vehicle
Current utility bill in your name with matching address
Two months of current bank statements with matching address
5. Complete Vehicle Information
Your lender will require specific information about your new car before approving you for a loan, like the purchase price, vehicle identification number (VIN), year, make, and model. If you finance your new vehicle through a dealership, they'll submit this information to the lender for you.
If you choose to buy from a private seller, you'll need to provide the lender with a bill of sale and/or purchase agreement. Be sure to also get the mileage, original title, and any lien disclosures if you're buying a used car.
6. Trade-In Documentation
If you're trading in your current vehicle, your lender will want to see the title, registration, and any other documentation that might impact trade-in value. This could include an odometer statement and details on any damage that's occurred under your ownership. Your current vehicle's trade-in value directly impacts the amount of financing you receive, so it's important to be thorough.
7. Credit Check
Your credit history has a significant effect on the length and terms of the loan you receive, which in turn impacts the overall price you pay. Buyers with lower scores receive higher interest rates than those with good credit, and some lenders may require you to meet minimum score requirements.
Many lenders use the FICO® Auto Score, which ranges from 250-900 and focuses on auto-related past payments, defaults, and repossessions. If you have bad credit, shop around to find lenders that offer preapproval and attractive terms for weak borrowers. You may also consider getting a cosigner with good credit, since they can help you qualify for a better loan than you would otherwise.
8. Down Payment
Most lenders look for a 20% down payment on new cars (or 10% on used ones), which is what you pay to cover a portion of the sale price of the vehicle. A large down payment ensures you won't end up owing more than the car is worth, and it also shows lenders you're less likely to default. Plus, it reduces the amount you have to borrow, which lowers your monthly payment and total interest.
Let Diamond Help You Purchase & Protect Your Car
At Diamond Credit Union, we offer automotive, recreational vehicle, and motorcycle loans with a variety of attractive terms, such as:
Extended financing options for up to seven years
The same loan rate for new and used vehicles
Up to 115% financing (including taxes, tags, and extended warranties)
Flexible payment plans
Online preapprovals
Refinancing options
Models six years and older are priced at unsecured (signature) rates
Diamond is currently offering a $100 cash back offer for members who finance a new or used vehicle, along with a three-month payment break from the date you sign on your auto loan (excluding the Auto Express Loan). We can also help you protect your new vehicle with extended warranties, auto insurance, guaranteed asset protection, and more.
Diamond Auto Express Loan
With Diamond's Auto Express Loan, you can apply for financing and receive a check to take to any dealership in three easy steps:
Get pre-approved, sign the disclosures, and receive your check.
Go car shopping and negotiate your best deal.
Fill out your check, give it to the dealer, and drive away!
Certain terms and conditions apply, including:
Maximum loan amount of $60,000
Maximum loan term of 72 months
Can't be used on vehicles over six years old
Check valid for 90 days after the date of issue
Check must be presented to a certified Pennsylvania dealership
Certain dealerships may be excluded based on credit union criteria
Ready to start shopping for your next car? Contact us today to learn more about the features, terms, and conditions of our affordable auto loans.