April 21, 2020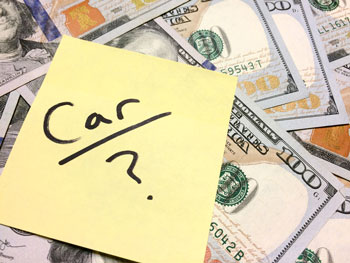 You may be hesitant to refinance your auto or motorcycle loan during these uncertain times. But there are many benefits of refinancing a car, especially during the COVID-19 crisis. In this blog, we'll review the advantages of refinancing your auto loan, from lower interest rates to lender flexibility. You'll also learn about an opportunity to help you maintain your financial health in these troubling times.
What Does it Mean to Refinance a Car?
Refinancing a car loan is similar to refinancing your mortgage. In essence, you take out a new loan to pay off the balance of your existing loan. Then, you begin making monthly payments on that new loan. You'll make these payments over a predetermined period of time, which is typically a few years.
Still asking yourself, "should I refinance my car?" Let's take a closer look at the benefits of refinancing a car.
Secure a Lower Interest Rate
The biggest benefit of refinancing a car loan is scoring a lower interest rate, which decreases your monthly payments. You should consider refinancing if your credit score has increased since you originally financed your auto loan, as this may result in a lower rate. Interest rates change frequently, so you should make the best of your improved financial health.
If you can't find a lower interest rate, you could still refinance into a loan with a longer repayment period. This will also result in lower monthly payments. However, keep in mind that longer repayment terms may result in you paying more interest over the life of the loan.
---
Auto Refinancing Three-Month Payment Break Offer
To help reduce your financial burden, Diamond Credit Union is offering a three month payment break for members who refinance or buy a new auto/motorcycle loan. If you borrow at least $12,000, you can also receive up to $100 cash back. This credit union auto refinance program offers competitive interest rates and a rate match on refinanced loans (subject to credit requirements). *Contact Diamond for details on this 3 Months No Payments offer, eligibility, and more on the benefits of refinancing your car.
---
Satisfy Your Other Financial Obligations
Refinancing a car also allows you to put the money you save towards other financial obligations, like your mortgage, rent, or utility bills. Finding ways to save money has become very important for many people during the COVID-19 pandemic. Having more cash in your pocket to put towards expenses can help reduce some of your stress and mental burden.
Explore All of Your Lending Options
In some cases, you may not have received the lowest available interest rate when you originally financed your car. Another benefit of refinancing a car is the opportunity to work with the lender of your choice. Having more flexibility lets you explore all of your options so you can secure the best interest rate out there.
Diamond Is Here to Help
At Diamond Credit Union, we understand that consumers are dealing with a lot of stress as a result of COVID-19. Many people are thinking about their money differently and are looking to save wherever they can. That's why we're here with the guidance you need to ease your mind and provide answers to all of your financial questions.
Ready to refinance your auto or motorcycle loan? Diamond's team of experts is available to help you get the best interest rate for the lowest monthly payment. Refinance today!