October 17, 2022
Diamond Credit Union has been named one of Pennsylvania's Best Places to Work for 2022. The recognition marks the seventh consecutive year Diamond is on the list.
The Best Places to Work in PA is a survey and awards program that identifies PA's best employers. Employees of PA businesses participate in a confidential survey and are asked to rate their company on aspects such as culture, innovation, work/life balance, and more. The data from the survey is then compiled into a report for employers to review where they succeed and where they can improve.
"Winning Best Places to Work for seven years in a row says a lot about Diamond," Diamond President and CEO Rick Patel said. "Our team comes to work with smiling faces and they know how to have fun while helping members."
The Best Places to Work in PA awards 100 organizations based on employee responses as well as company policies and values. An official ranking will be announced in December at the Best Places to Work awards ceremony.
Employees that work for DCU utilize the organization's 10 core values:
Do what is best for our team, our community, and our credit union
Respect all members and the team
Blend hard work with fun
Make every member experience matter
Create positive energy through your actions
Act with integrity in all situations
Share and embrace new ideas
Take initiative to make an impact
Get it right the first time
Challenge yourself to maximize your potential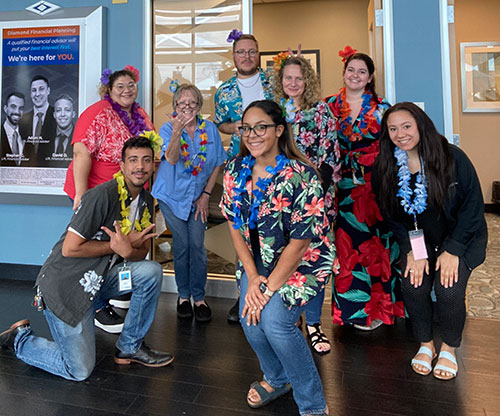 Photo: Diamond's Exeter branch employees celebrated Aloha Friday in August. Employees were able to have fun while helping members, and spread positivity with their Hawaiian attire.
Thank You, Diamond Employees
"Diamond has been growing, serving and providing financial guidance for over 75 years. This wouldn't be possible with out the employees that come to work and bring the Younity culture to life. Thank you to everyone that helps make Diamond a Best Places to Work atmosphere," Patel said.
If you want to be part of a Best Places to Work team, consider applying to Diamond Credit Union.