October 25, 2019
Nowadays we commonly hear someone say, "I hardly ever carry cash!" Credit and debit cards have made daily spending so much easier. But, can you imagine hearing someone say, "I never even carry my wallet anymore!"? While this is probably a bit extreme, the mobile payment technology options available today have put the power of purchasing goods and repaying friends or family right into our mobile phones.
How Do Mobile Payments Work?
Very simply, mobile payments are regulated financial transactions that all take place through a mobile device. There are two types of mobile payments that you may be familiar with — mobile wallets and mobile money transfer. Here's a quick look at how they work.
Mobile Wallets — Mobile wallet applications are typically recognized by their branded names: Apple Pay, Samsung Pay, or Android Pay. To use a mobile wallet, you must first enter your credit card or debit card information, which is stored in the app. From there, you can pay at credit card terminals by holding your phone within range of the reader, or to make online or in-app purchases by quickly accessing the card information on your phone.
Mobile Money Transfer — This online payment technology is also referred to as P2P (peer-to-peer or person-to-person) payment. Using apps like PayPal, Venmo, or Zelle, you can quickly transfer money to people you know or have them transfer money to you, as long as both parties are signed up on the platform. When a payment is initiated, the recipient is sent a link, and once it's clicked and accepted, the funds are pulled from your bank account and added to theirs.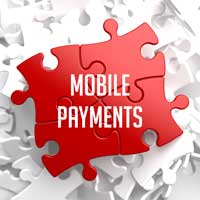 Are Mobile Payments Secure?
The convenience and ease of these different mobile wallet trends are certainly an advantage, but you may be wondering how safe these types of transactions really are. With your credit card and bank account information stored on your phone (which you carry everywhere!), you may be hesitant. Below we'll outline the security features that are used to keep you and your information safe.
Mobile Wallet:
Mobile wallets are far more secure than the magnetic stripe on your credit card and equally secure to the latest EMV chip cards.
Depending on how new your phone is, your mobile wallet app will need a PIN, thumbprint, or use facial recognition to pull up your credit card information.
Mobile wallets also use tokenization to safeguard your bank details. When you enter your credit card information, the app communicates with your card issuer, and your account details are then replaced with randomly generated numbers (called tokens). These tokens are useless if accessed by fraudsters.
Money Transfers:
Money transfer applications provide the option of setting up PIN access to your account, although it is not automatic.
Like mobile wallets, mobile money transfer apps use data encryption to hide and protect the account details you have entered.
You also have the ability to log out of your account from another device. For example, you can use your desktop to end a mobile session if your phone is lost or stolen.
"Remember though…with great convenience, comes great responsibility," advises Chelsea Fry,  Director of Retail Delivery Services at Diamond Credit Union. "Mobile Payments are a quick and convenient way to make purchases…including impulse purchases online. Be cautious not to overspend or blow your budget due to easy click-to-purchase items."
Protect Your Phone, Protect Yourself
In addition to the safety features available on individual mobile payment apps, one of the best ways to ensure that your financial information is secure is to protect your phone. Here's how you can set up your phone to protect all the information stored within:
Set a passcode, thumbprint, or facial recognition to lock/unlock your phone.
Avoid using mobile payment applications while using the free public WiFi available at public locations, like coffee shops, airports, or libraries. Use your secure home Wifi or internet connection instead.
Log out of accounts. Most financial apps will log out users after a certain time frame for their own security. However, you should get into the habit of hitting Log Out when you've completed your tasks. Simply closing the app does not always log you out.
Don't ignore system updates. Keep your phone safe from known security weaknesses by installing system updates as they become available.
Stay up-to-date with ways to keep your finances safe and secure by browsing through our blog library. Categories include Trending, Smart Finances, Educational, and specialty areas such as Mortgages, Small Business, Financial Planning, and Fraud Report.