October 30, 2019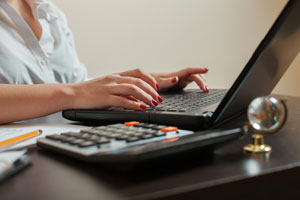 We've previously offered the advice that, as a small business owner, you should find experts who can help you manage your business — including an accountant. However, if you feel comfortable keeping track of finances for your small business, this may be a task you can keep for yourself. This will require that you choose the right software suited to manage small business finances for your company.
QuickBooks and Quicken are popular financial software options and the ones that most small business owners explore when they begin their search. At first glance, they may seem similar; they even have similar names. But, there are important differences in their capabilities when managing small business finances. Here's a snapshot of what each program offers so you can decide which is the best solution for your business.
BOTH: What Do QuickBooks and Quicken Both Offer?
There are a number of tools that both of these programs offer that make it easy to keep track of finances for your small business. QuickBooks Simple Start and Quicken Home & Business both allow you to:
Balance and reconcile accounts
Create estimates
Create invoices
Accept credit card payments
Enter bills
Pay bills online
Create reports (P&L, balance sheet)
Track sales tax
Connect to financial institutions
But, what should be even more helpful in your decision-making process, is understanding the differences between the two programs.
QUICKBOOKS: What More Can QuickBooks Do?
The general consensus is that QuickBooks is the best choice for the majority of small businesses. Not only does it feature a simpler interface, it also allows multiple users to access your account. This is helpful if both you and a partner/other employee will be handling accounting tasks. Additionally, QuickBooks is a cloud-based program that can be utilized on multiple devices in real time. A transaction done on one device is immediately available for view on another device.
In addition to the capabilities outlined in the section above, upgraded versions of QuickBooks allow you to:
Create purchase orders
Manage inventory
Set up recurring invoices
Track team hours
Handle payroll
Accept payment online
Automatically charge customer credit cards
Prepare tax forms
QUICKEN: What More Can Quicken Do?
Quicken is the best choice when you want to track your business and personal finances in a single place, although, the dual purpose does make the program a little more difficult to set-up and master. It's a single-user platform, but that is often enough if you're the only one handling the accounting and taxes for your company.
Beyond traditional business tasks, you can also keep personal finances organized:
Track money in and money out
Set budgets
Manage loans
Categorize expenses
Maximize tax deductions
Although QuickBooks is preferred by most small businesses, for rental property businesses, Quicken comes out ahead. It offers additional financial management tools that let you easily track tenants, rental rates, and lease terms for your rental properties.
COST COMPARISON: Quicken or QuickBooks
Quicken is the most cost-effective option for managing small business finances. The program will cost $99.99 per year. While QuickBooks offers different tiers, the Smart Start program costs $20 per month or $240 per year.
No matter if you choose Quicken or QuickBooks, you can seamlessly connect your Diamond business accounts to your money management program. If you have further questions, you can contact the experts on the Diamond Business Services team.