January 13, 2022
For 75 years, Diamond Credit Union has evolved into an organization of 180 employees that provide service and support to the surrounding communities. Each employee brings dedication and motivation to help members as well as fellow employees succeed.
If you were to ask Diamond employees about their experience, you would hear many stories about those that came to Diamond looking for a job, and instead they found a lifelong career. These are just a few of the many Diamond success stories that can be found throughout the organization.
Director of Retail Delivery Services, Chelsea F., began her journey with Diamond in 2001 when she started as a Teller going through college. Chelsea has held a variety of positions within the Credit Union, from Financial Consultant, to Branch Manager and more before being promoted to her current role.
It isn't uncommon for Diamond employees to join as a teller and then work their way up the ladder. Director of Strategic Planning and Project Management, Peter D. also started at Diamond as a Teller while studying in college. Much like Chelsea, Peter worked his way through different roles in the organization. As he gained more experience and knowledge, he was promoted to Consumer Loan Funder, then to Compliance Officer and in 2021, Director.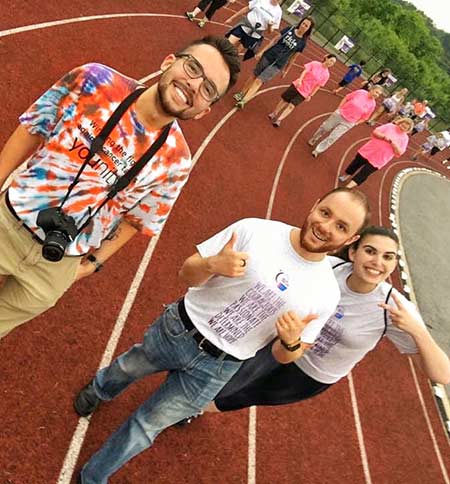 Another DCU success story can be found with Marketing Officer, Anthony H. Anthony began his career as a Teller, and joined the Marketing Department three years later as a Marketing Associate. In 2020, he was promoted to his current role.
Photo (Left/Above): Anthony H., left, and Peter D., right, pictured at a Relay For Life Cancer Walk.
"Starting as a teller provided me with invaluable member service experience that I was able to leverage in my marketing career," Anthony said. "This position helped me move up in Diamond."
Chelsea and Peter agreed that their experiences as tellers set them up for success in the organization.
"It's a great role to build a solid foundation of knowledge about the Credit Union and the financial world," Chelsea said.
Many don't know just how much they can impact people's lives by working as a teller at Diamond. Not only do DCU employees have the chance to help members financially, but they also have the opportunity to connect with members and build relationships.
Chelsea shared that through her interactions with members, she held great conversations and had the chance to make their days "a little bit brighter along the way."
The Backbone of Diamond Service
The reason there are so many people like Chelsea, Peter and Anthony in Diamond is because employees follow Diamond's Core Values to guide them through their careers.
Diamond's Core Values: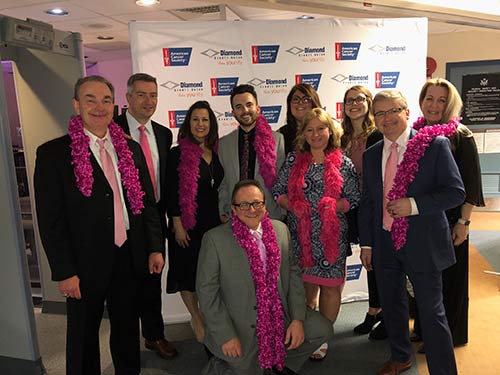 Do what is best for our team, our community, and our credit union
Respect all members and the team
Blend hard work with fun
Make every member experience matter
Create positive energy through your actions
Act with integrity in all situations
Share and embrace new ideas
Take initiative to make an impact
Get it right the first time
Challenge yourself to maximize your potential
Each core value helps shape Diamond employees and their interactions with members. Many employees build lasting friendships along the way here at Diamond because they share similar values.
Photo (Right/Above): Chelsea F., third from left, and Anthony H., fourth from left, pictured at a Relay For Life event with other Diamond team members.
How Positivity Can Impact Your Career
No matter what department you find yourself in at Diamond, your fellow colleagues are always encouraging you to be the best version of yourself, and to never stop learning. That is why so many people that start as tellers find themselves being promoted into other roles.
"Diamond wants to see you succeed- we have so many staff success stories here, and they all contribute to Diamond's overall success," Chelsea said when referring to Diamond's core values.
When you surround yourself with people that have positive attitudes that enjoy their jobs, it doesn't feel like you're going to work. Chelsea described the branch teams as enthusiastic, heartfelt and driven. "Our team is here to help, here to guide, here to educate and here to make your day."
Have Fun While Supporting Your Community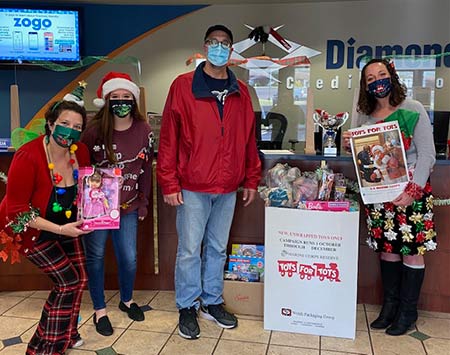 Diamond is about more than supporting members financially. The organization believes in providing opportunity to every member of the community, both financially and in their everyday lives.
Photo (Left/Above): The Pottstown branch held a toy drive for Toys for Tots during the 2021 holiday season. They dressed up in holiday attire to pass off the toys to the charity.
The Credit Union has supported the American Cancer Society's Relay For Life since 2006 and has raised over 1 million dollars to support the fight to end cancer. When employees aren't fundraising for Relay, you can find them hosting food drives, toy drives and finding other ways to support local organizations.
"The team is constantly looking for ways to give back and is always part of fun events that support great local causes," Anthony said when explaining that his favorite part about working for Diamond is the community involvement.
The Diamond team has fun while supporting the community and also during everyday tasks. "Blending hard work with fun" is another essential core value to the Credit Union. "It's a fun place to work," Peter said. "Between the work, members and coworkers, there is always a reason to be engaged while working here."
In addition to community events, employees also have the chance to participate in work place fun through out the year. There are pizza and smoothie days, a Halloween costume contest, an ugly sweater contest and more.
An Award-Winning Company
Diamond Credit Union has been awarded one of the Best Places to Work in PA for six consecutive years. The positive and caring attitudes of Chelsea, Peter and Anthony can be found within each DCU employee that is building a career with Diamond.
In addition to being voted as the Best Place to Work by staff, Diamond was also awarded 2021 Best of Berks- Financial Institution by Berks County Living Magazine. When employees love their jobs, it is reflected in the service they provide to members.
Surround yourself with like-minded individuals that want you to succeed. If you want to work for an organization the encourages growth, likes to have fun and will challenge you, consider applying today.
Encouraging growth for 75 years…that's younity.