October 11, 2023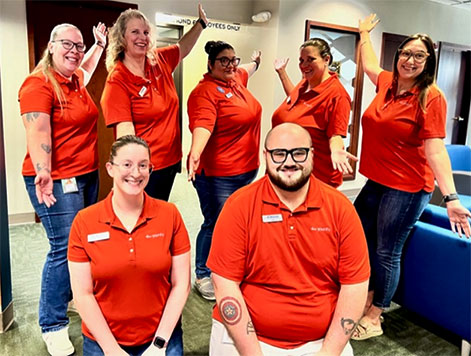 Photos: Diamond Credit Union's Pottstown Retail employees wore their younity orange polos to celebrate a Younity Friday in September.
Diamond Credit Union was named as one of the best places to work in Pennsylvania for 2023 by Best Companies Group.
This is the eighth consecutive year that Diamond has been ranked among the best places to work in Pennsylvania. Diamond is the only credit union to receive the award for 2023.
In 2022, Diamond received it's highest ranking thus far, placing eighth, in the medium-sized companies' category. The official ranking for 2023 will be announced on December 7 at an awards banquet and ceremony.
Best Places to Work
The Best Places to Work in PA is a survey and awards program that identifies the best employers in PA. Employees participate in a confidential survey and are asked to rate their company on aspects such as culture, innovation, work/life balance, and more.
The data from the survey is then compiled into a report for employers to review where they succeed and where they can improve.
To be considered for participation, companies have to be a for-profit or not-for-profit business; publicly or privately held; have a facility in Pennsylvania; have at least 15 employees working in Pennsylvania; and be in business a minimum of one year.
"I'm so proud to be part of an organization with positive, caring and dedicated individuals," Diamond President and CEO, Rick Patel said. "Diamond employees bring younity to life and exemplify that when helping members and helping the community."