October 12, 2023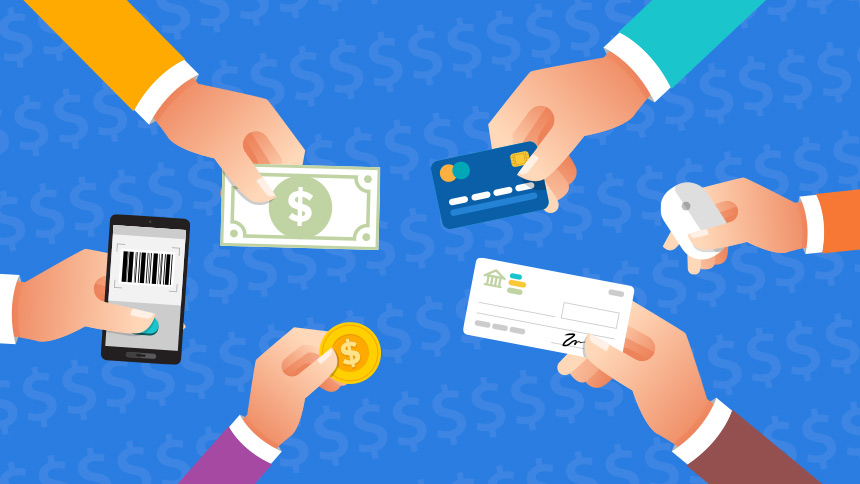 Learn how to make secure online payments so you can keep scammers out of your life.
Thanks to services like mobile pay apps and the now-standard EMV-chip credit cards, there are a host of payment options you can choose from. Unfortunately, more choice doesn't necessarily translate into better security.
When it comes to modern payment methods, it's worth knowing the pros and cons of each so you can make an informed decision. Here's a look at some of the more common options and what you need to know for secure payment methods.
PAYMENT APP SECURITY
Mobile payment apps are designed to free you from cash and credit cards by allowing you to digitally transfer funds to family, friends or merchants. You link your bank account or credit card information to the app on your phone or tablet. Your connected card is then used to pay when you tap, swipe or scan the app through e-commerce sites, in-store at the register or to transfer money to a person or business. These apps have become increasingly popular, with 93% of generation Z using mobile payment platforms on a monthly basis.
Mobile payment vendors are highly sensitive to payment security concerns, so they maintain robust controls to keep information safe. If you also employ mobile device security, these digital wallets can be safer than credit cards tucked into a traditional wallet or billfold.
Keep in mind that even with these types of controls in place, any mobile payment technology that collects all a user's financial data in one place is likely too tempting for thieves to pass up. For frequent users of mobile payment apps, sending money to the wrong person or sending money to a scammer were the top two reported issues in 2022.
EMV-ENABLED CREDIT CARDS
Also called "chip and PIN" cards, EMV-enabled credit cards are designed to be more secure than traditional cards that only require a user's signature to make a purchase.
These cards have an integrated chip that creates a new authentication code for every transaction, adding an additional layer of payment security. These cards also cannot be "cloned," which is a cybercriminal's way of stealing information from a traditional card's magnetic strip and making a new card.
Regulators have encouraged the adoption of these more secure cards by shifting the liability for payment fraud from the credit card issuer to the merchant processing the payment. Yet while many retailers have readers that can accept these cards, the U.S. lags behind other markets in adopting EMV-enabled cards. As a result, you can still make a purchase at restaurants, shops and other venues by swiping and giving your signature, but you'll miss out on the extra security these chip and PIN cards provide.
BANK CHECKS
The growth of digital banking means many people only write a few checks per year — and that is likely a good thing given the dramatic rise in check fraud. Unfortunately, check scams are still far too common.
For one-time payments (such as magazine subscriptions, charity donations or monetary wedding gifts), checks can be a convenient payment method. Be aware that checks not only may feature your name and address, but they also include your bank account and bank routing numbers. They also give would-be identity thieves an example of your signature.
The resurgence of check fraud has some experts warning people to not mail checks. If you need to send a check, you should send the envelope from inside a post office (rather than leaving it for your mail carrier to collect or dropping it in a mail box). Only send checks to people or companies you trust, and regularly review your bank transactions to look for fraudulent activity.
CASH
The use of "cold hard cash" is starting to seem like a thing of the past. Even small transactions, like buying a newspaper or a cup of coffee, can be done with a swipe of a card or smartphone. But you may not want to ditch the paper money quite yet.
As easy as it is to swipe a card everywhere you go, security concerns will go along with you. That's why it makes sense to pay for smaller transactions with cash, since cash carries zero risks of identity theft.
The downside is that no one feels particularly safe carrying a large amount of cash around. Plus, if that cash is lost or stolen, it's likely gone for good. Credit and debit cards, on the other hand, can be replaced and fraudulent charges disputed.
GIFT CARDS
Electronic or physical gift cards are an easy way to show appreciation to someone. They also provide recipients with a potentially safer online secure payment method to make a purchase without exposing sensitive personal or payment information. That's because a gift card is not connected to your bank or credit card account, so financial details are kept safe from scammers. Like cash, gift cards carry a very low risk of identity theft when they are unregistered.
Many gift cards recommend you "treat this card like cash" since, like cash, there's no getting the money back if the gift card is lost or stolen. Some gift cards do offer registration options to protect against theft or fraudulent charges, but that requires you to hand over personal information as part of the registration process.
Finally, remember to purchase gift cards directly from a trusted retailer to avoid possible third-party gift card scams.
PROS AND CONS OF DIFFERENT PAYMENT TYPES
The reality is that every form of payment has risks, and it can be tricky to keep payment security in mind when you're running errands or trying to speed through online ordering. To reduce the risk of identity theft, though, it pays to focus on security during any transaction.
If you'd like help monitoring your bank, credit card and investment account transactions — and to receive alerts of potentially suspicious activity — you may want to consider a credit and identity theft protection solution.
Diamond Credit Union has partnered with CyberScout , a Sontiq brand, to offer comprehensive identity management services. If you detect suspicious activity or would like to proactively protect your identity, contact us at 610-326-5490 to be connected to a CyberScout fraud expert.