August 13, 2020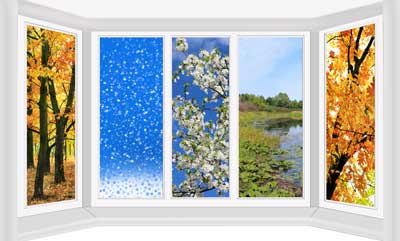 Spring and summer are typically considered the best times to buy a home due to increased inventory. In fact, 40% of all home sales take place between May and August. However, there are many benefits to buying a house in fall or winter. If you are asking yourself, "is winter a good time to buy a house?" or are considering home shopping this fall, our blog is the perfect place to start.
Less Competition
While inventory is certainly lower in the fall and winter, there are also fewer buyers. This means there's less competition for your dream home when buying a house in the fall or winter. Many people do not want to look for houses in cold weather, and others may not bother looking at all because they think it's a bad time to buy. Fewer bidding wars means you have more time to compare homes and make careful decisions you might not have time for in spring or summer.
Lower Prices
In most cases, fewer buyers also means that supply exceeds demand. As a result, motivated sellers may be more willing to negotiate price and offer seller's assist than they would be at other times of the year. There may be fewer all-cash offers, increasing the likelihood of sellers accepting offers with financing. Plus, the majority of price reductions occur over the winter, which is also good news for buyers. Be sure to note a home's cumulative days on the market, as this can give you increased leverage with sellers.
Faster Transactions
It is important to note that many sellers only list their home in the fall or winter because they have to. They may be relocating for situations such as a job change or moving back to their hometown to care for a sick family member. Regardless of the reason, this sense of urgency may mean they'll agree to an accelerated closing. If the seller is really in a tight spot, you may also be able to adjust their move-out date to suit your schedule.
Attention from Lenders & Realtors
Because business volume is lower in the fall and winter, mortgage agents often have more time to devote to customers. In fact, studies show that lender business slows down by 25-30% around the holidays. The months between September and February are slower for realtors, so they may have more time to show you homes and negotiate on your behalf. A more flexible schedule on their part may mean you get to see a home before other house hunters.
Tax Advantages
There are several tax benefits to buying a house in the winter or fall. You'll be able to get a few more months of mortgage payments under your belt than you would if you wait until the spring. That means you can write off more of the expenses associated with home purchases, like mortgage principal, interest, private mortgage insurance (PMI), and taxes.
Improved Transparency
A significant benefit of buying a house in fall or winter is the ability to spot weather- and temperature-related problems you may not notice in warmer months. These include things like:
Ice dams
Ceiling or wall insulation issues
Drafty windows and doors
Leaks and weather-proofing issues
You may have a better chance of picking up on exterior defects since trees will have lost their leaves and many flowers are dormant.
It's never too early to think about buying a home. If you're considering purchasing in 2021, contact us now so you're prepared to make an offer on your dream home.