February 4, 2014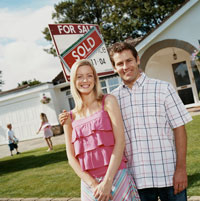 It's no secret that buying a home can be very stressful. At Diamond Credit Union, we've heard our fair share of home-buying challenges and successes. Here are a few quick tips to take the stress out of your house-hunting.
1. Be Clear About Your Deal-Breakers Upfront
There are so many options in home buying, and if you don't narrow them down you'll visit a ton of "not-it" houses. Before your realtor schedules any visits, sit down and make a list of the things that are most important to you. Then give the list of "deal-breakers" to your realtor. Everyone's list will be different, but here are some examples:
The house must be within 10 miles to my work
I need my own bathroom
It has to have a suitable backyard for a rambunctious dog
2. Know The Difference Between A Good Deal And A Bad Idea
Buying a "fixer-upper" can be a great way to save money; that is, if the fixes can be done within budget. Before buying a home that needs a lot of work, do the math and decide how much it will really cost after all of the fixes. Also, don't overestimate your handyman skills. It often costs more to hire someone to fix a mistake then to just hire a professional in the first place.
3. Get Pre-Approved Before You Start Looking
House-hunting can be overwhelming and disappointing if you find that you can't afford the house you just fell in love with. When you get pre-approved for your mortgage you'll know exactly what you can afford and your realtor can use that information to narrow down your search.
Not sure where to get a pre-approval? Diamond Credit Union's Mortgage Center will be happy to help. Call 800-593-1000 extension 1108 or contact Diamond online.
Know what to expect before you call with the short video:
4. Don't Feel Pressured By Rate
When you hear that rates are going up, it might make you want to lock in and settle on a house you're not sure of. Rates are going up, but not drastically so. Rates are still incredibly low compared to ten years ago, and the slow increase is nothing to worry you into a rush decision.
5. Ask Questions
It's perfectly normal to have a ton of questions when buying a home. Your realtor and your mortgage professional will likely go over the basics with you, but there is nothing wrong with wanting to know more. The more you know, the more comfortable you'll feel about your decision.