August 12, 2023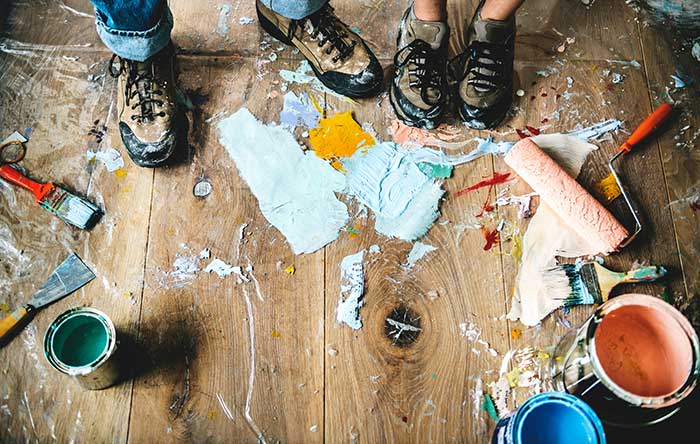 Your home holds a lifetime of memories between you and your family. A well-lived home often needs upgrades or repairs along the way.
Whether you're looking to make renovations for aesthetics or because the repair is necessary, you still need to ask yourself, is this a DIY home improvement project, or should it be left to the professionals?
Diamond's blog about how home equity can help you upgrade your home. goes over using your home's equity to make changes to your home. This blog further outlines how Diamond can help you plan out your finances in order to make home improvement projects a reality.
Financing for Your Home Improvement Projects
There are various projects that you can DIY or have a professional complete, but the big question is, how should you financially prepare for these renovations? This first section will outline home equity loans and the different options offered at Diamond Credit Union.
Home Equity Loan
Diamond offers three different types of home equity loans: first-lien, 2nd mortgage, and line of credit. Each type of loan has different rates and advantages. The Mortgage team can help you determine which loan is best for you and your current financial situation.
First-lien and 2nd mortgage home equity loans are standard installment loans. These are one-time loans, with a fixed interest rate and payment, that are secured by your home. A home appraisal will determine the equity in your home and will tell you how much you may be able to borrow.
There are also different rates for the first-lien loan compared to 2nd mortgage home equity loans.
A home equity line of credit is a revolving open-ended loan similar to a credit card account. Unlike a credit card though the loan is secured by your home. Your loan amount is constantly revolving and your interest rate may change. With this line of credit, you can advance funds whenever you need. The payment will change monthly based off the outstanding balance.
Common Indoor Home Improvement Projects
Sometimes, a home improvement project is more of a need than a want. Whether you've been planning to make some upgrades for a while now, or are in a more urgent situation, these are some common indoor and outdoor home improvement projects.
A majority of these projects will increase your equity, so you'll earn a higher profit when you're ready to sell your home.
Remember you have the option to hire a pro or do it yourself. You know your level of expertise best, and any of these projects can be done by a professional if you don't feel comfortable doing it.
1. Bathroom Remodel
Depending on the level of remodeling, a good average budget for your bathroom is about $24,000. With every home improvement project, there are various levels. You should consider hiring a pro for a full remodel and renovation of your bathroom.
Smaller, popular upgrades include adding new lighting, replacing the flooring, updating the shower tiles and shower head, or replacing the sink countertops. If you're comfortable with it, these can be great do-it-yourself projects to revamp your bathroom.
2. Kitchen Remodel
Just like a bathroom remodel, you can either go big or keep it small when it comes to a kitchen renovation. Even the smallest renovations like painting your cabinets, or adding light fixtures can boost the aesthetics of your home and increase your home's value.
With every home improvement project, the more you put into it, the better the return on your investment. So if you're able, adding or updating kitchen appliances is great for when you're looking to boost the overall value of your home.
Minor kitchen adjustments tend to cost in the low $20,000 range whereas full kitchen remodels can be in the upper $70,000 range.
3. Updates to Your Flooring
There are a few home renovation projects that make your house more sustainable and energy efficient. You'll notice that not only will you increase your home's value, but you'll save costs on monthly utility bills.
New flooring, like carpet, can help better insulate your home and keep you warmer for the winter. On the other hand, laminate or tile flooring helps cool your home down in the summer.
4. Updates to Plumbing
Updated plumbing is likely more of a necessity than an aesthetic upgrade. Whether you need to repair a leaky pipe, upgrade your toilets, or replace your water heater, this isn't going to be your favorite renovation.
By making these improvements, you can conserve water in your home and improve water pressure and temperatures. Updates to your plumbing might also be necessary if you live in an area with harsh winters and are susceptible to frozen pipes.
No matter what needs to be done to your plumbing or pipes, it's best to hire a pro for this type of renovation.
5. Home Office Renovations
Now that it's become more of a norm to work from home, it may be time to create a dedicated space for your home office. By having this specific space, you will likely become more productive, and give yourself the ability to detach work and home life.
This can be a fun do-it-yourself home remodel as long as you have existing space or room to transform it into an office. If you need to build out a room, you should consider hiring a professional.
Common Outdoor Home Improvement Projects
There are a lot of outdoor home improvement projects that will help you increase your curb appeal and home's value. The exterior of your home is usually a guest's first impression, so you should make sure it's a good one.
1. New Garage Door
An upgraded garage door is one of the best exterior improvement projects for raising your home's value and curb appeal. In fact, in 2023, a new garage door actually adds enough extra value to your home that it can cover the entire cost of the door.
2. Updates to Landscaping
There are a lot of small, DIY home projects you can do in your yard and front area. The outside of your home is going to be seen by more people than you think, so these small changes can come with surprising benefits.
Minor things like planting new flowers, incorporating a new garden, adding exterior lighting or lamps, or getting a small shed to better organize your outdoor equipment all help the outside of your home look cleaner and better maintained.
3. Adding Fencing to Your Yard
Depending on the size of your yard and fence, this could be a DIY home project. However, you know your experience level best. So, hire a pro if you need it.
A big reason you may consider adding a fence to your yard is to have more privacy between you and your neighbors. These defined lines will also create a concrete area for a new outdoor oasis. So you can spend more time outside and enjoy your backyard.
It's important to note here that a fence may be a project you need a permit for. Check with your local municipal or HOA regulations. Certain restrictions may apply to the height and material of your fence.
4. Installing a New Roof
Installing a new roof may be a home improvement project that comes faster than you'd like. If there are issues with your roof, you shouldn't wait around for it to be further damaged. On the other hand, there are many benefits to upgrading your roof, even if there isn't an underlying issue.
Depending on the roofing material, it will likely cost in the tens of thousands of dollars. This type of improvement can increase your home's energy efficiency. Just like a new garage door, a new roof can better insulate your home and save you money on utility bills.
5. Adding a New Deck or Patio
If you don't currently have a nice outdoor space for you to hang out in, a deck or patio can be a great addition to your backyard. If you're looking for a fairly easy DIY home improvement project, we suggest a simple square patio. Even the smallest additions and upgrades will benefit you and increase your home's value.
Become a member at Diamond Credit Union to make your DIY home improvement projects a reality.