August 8, 2023
Royersford National Night Out
August 1 is known as National Night Out. This is a community event that different police departments take part in across the United States. The Royersford Police Department participated in this event, with different streets blocked off so community members could walk and speak to local organizations.
Diamond Credit Union's Royersford branch had a table there with information about cybersecurity and financial literacy. There was also a ring toss game for children to play, along with prizes.
Royersford Member Appreciation Day
The Royersford branch held their Member Appreciation Day on July 27. Members that visited the branch were able to enjoy snacks and refreshments. They could also spin a prize wheel to win a Diamond prize.
5K Color Run in Memory of Diamond Employee, Mary Jo
Diamond employees participated in a 5K color run in memory of Diamond employee, Mary Jo. Employees as well as Mary Jo's family came together to honor her on July 23.
Exeter Hot Dog Days
Photo (Below): The Exeter branch pictured at the branch on Hot Dog Day, where they collected donations to benefit Exeter Food Pantry's Holiday Toy Drive.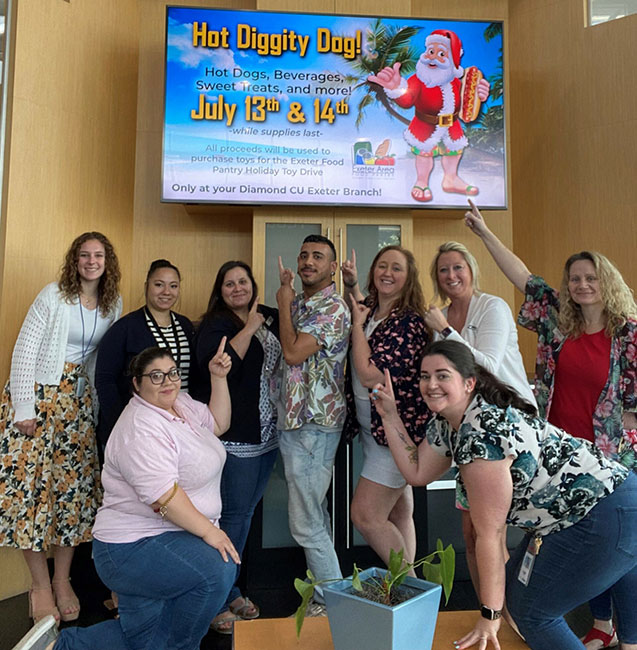 The Exeter branch held two Hot Dog Days on July 13 and 14. The branch had hot dogs, beverages and sweet treats that could be purchase for a donation. The team raised $500 that will benefit the Exeter Food Pantry's Holiday Toy Drive.
Muhlenberg Jingle in July Toy Drive
The Muhlenberg branch held their Annual Jingle in July Toy Drive to benefit KidsPeace Foster Care in Reading. This marks the third year that the Muhlenberg team has held the toy drive.
Photo (Below): A portion of the toys that the Muhlenberg branch collected that were donated to KidsPeace Foster Care in Reading.
United Way's The Big Cheese Event
Diamond volunteers were part of the 500 people that met in June to help package meals for families in need. Helping Harvest Fresh Food Bank then distributes the meals to local food pantries throughout Berks County, as well as the Weekender Program. The program distributes meals to local school children.
Thank You
"We are so grateful to be part of a community that is so generous and willing to help others," Diamond President/CEO, Rick Patel said. "Thank you for everything you do that allows us to give back."
Supporting local communities…That's Younity