October 17, 2022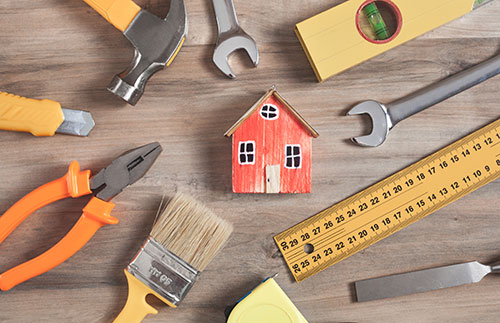 There comes a time with every house where certain home improvement projects need to take place to keep it in shape and lasting through the years.
Inevitably your roof will need to be repaired or you might need to replace a few windows. While these projects can cost you a pretty penny, they don't actually add value into your home. These kinds of improvements can increase your marketability, but you shouldn't expect a big return on projects like these.
Even though not every project will add value to your home, there are still some that will. Keep reading to find out which home improvement projects can set you up for success when you're ready to sell your home.
Structural Home Improvement Projects
If you're considering replacing your roof or taking on another expensive project, it's important to consider when or if you will be selling your home in the near future. If you plan on listing your house for sale next week while the market is competitive, it's probably not worth it to put a brand-new roof on your house.
Your house will most likely sell with the roof you currently have and one week might not make a big difference in the state of your roof.
However, if you think you're going to sell years from now, it might be worth it to call your local roofers. For one, you don't know what the market will be like then and having a newer roof could increase your chances of selling. Secondly, you don't want to let your roof continue to degrade that long, especially since you're living under it.
Even though your home's value won't increase with new windows or a new roof, it could still be an important factor in selling your home.
If your roof is in a state where there are leaks and it's causing other problems, that could deter buyers, even if it is a competitive market. Buyers are more inclined to purchase homes with newer roofs to avoid the hassle of replacing it afterwards. Additionally, if they see water stains or other water damage, they'll start to wonder what other problems your house has.
The same goes for windows. The costs to replace windows can add up quick. When a buyer is already spending a lot of cha ching to purchase a home, the idea of spending even more to replace windows after the fact could be a deterrent.
Even though these necessary home improvement projects don't increase your home's value, they can still increase the chances of you selling your home. Maybe the buyer is looking at two homes, and your roof is new, but they would have to replace the other home's roof. It could be a deciding factor.
Negative Value Home Improvement Projects
There are always necessary projects that every house will need eventually, but there are also projects that are more customized to what you want or your specific style. While luxury upgrades that match your taste may seem nice to you, they can negatively affect your home's resale value.
Examples of custom projects that can impact your value include swimming pools, expensive flooring such as marble, garage conversions and more. These luxury upgrades might appeal to your family, but they could turn away buyers.
You may love having a pool, but people looking to buy aren't always looking for one, or don't know how to maintain them. You could love the marble flooring that you had installed, but depending on the area you live in, buyers potentially don't want to pay more for high scale flooring.
It's important to keep in mind that the area you live in can also impact the value of certain upgrades. For example, a swimming pool in a warm and sunny state holds a higher value than somewhere where it's usually cold.
This doesn't mean that you shouldn't make your home you, after all you should enjoy it while you live there. Just know that if it isn't your forever home, there are certain projects you should consider spending less on or putting your money towards something else entirely.
Projects to Increase Your Home's Value
You read about projects with no impact on your home's value, and projects with negative impacts. Now it's time to read about what home improvements can positively impact your home's value.
Things like remodeling, upgrading appliances, finishing your basement, and cleaning up the outside of your property are all things that can increase the value of your home.
Remodeling your kitchen, bathroom, or any room can increase your home's value. Especially if any room looks outdated or needs repairs. You just need to make sure your remodeling budget is proportionate to the value of your home. If you have an unfinished basement, finishing it means additional square footage and that means more value for your home.
These projects can potentially increase your equity as well, so you will earn a higher profit.
Don't underestimate the power of curb appeal. You don't have to spend a lot of money to clean up the outside. Even weeding and making sure the outside is clean can help increase your home's value.
It's Your Home
At the end of the day, your home is your home. Whether you're selling in five years or 20, you should make it comfortable for you. Just keep these in mind as you get closer to getting ready to put your house on the market. When you're ready to start taking the next steps, reach out to Diamond's Mortgage Team for expert guidance every step of the way.