May 10, 2019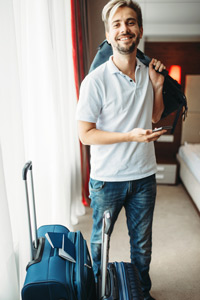 Summer is nearly here, bringing a bit of rest and relaxation to hundreds of millions of people around the world. Workers eagerly anticipate summer vacations: 68 percent of Americans and 64 percent of Europeans planned a summer holiday in 2018.(1) Vacations create special memories and experiences that we all cherish.
Unfortunately, vacationers face an increased risk of identity theft while traveling, from pickpockets to fraudulent travel websites and other scams. Perhaps the greatest threat comes from digital travel-related identity theft. Kaspersky Lab found that travelers are more likely to be robbed of the data than their money. One in five international travelers gets hit by cybercrime abroad.(2)
Let's examine ways you can guard against digital identity theft while enjoying your travels.
Security overrules bargains: Stay safe while booking travel online
Fraudulent travel websites pop up during the two busiest vacation times of the year—summer and end of year—to lure in bargain hunters. Stick only with name brand travel aggregator sites like Priceline, Orbitz, or AirBnB when making reservations. Or book directly with the airline, hotel, or car rental of your choice. You may want to create a free Gmail or Hotmail email address to use when making online reservations.
Even if you avoid the shady websites of internet travel scammers, your personal information can still be at risk. In the last two years, hackers have hit the travel industry hard, causing major data breaches at Marriott, British Airways, Delta Air Lines, and Orbitz. In the Marriott breach alone, 5.25 million unencrypted passport numbers may have been exposed.(3) Because these travel-related brands have a lot of personal information about their guests, experts expect the cyberattacks to continue.
The most threatening destination? Unsecured public WiFi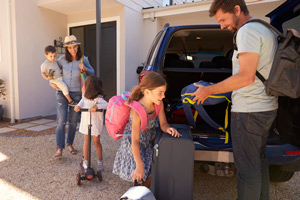 With mobile devices, there is pressure to remain constantly available for calls, texts, and emails. Forty-four percent of people get online before leaving the airport and 50 percent are connected by the time they arrive at the hotel.(4)
Don't be your own worst enemy. Stay off unsecured, public WiFi networks. That includes most airports, restaurants, and tourist attractions. Rely on your cellular data plan, a password-protected, private WiFi network, or use a VPN. Sadly, most travelers ignore this critical threat, with 75 percent connecting to public WiFi abroad, and nearly half shopping or banking on public WiFi.(5)
Turn off the automatic connection to WiFi option on all of your devices (laptops, phones, tablets), so they don't seek out public networks. You may be able to use your phone as a cellular, password-secured hotspot. Avoid using public computers found in internet cafes or hotel business centers, but if you must, make sure the web browser isn't storing your login information and clear the browser's cache, history, and cookies when you are finished.(6)
Delete phone apps that contain financial information such as payment apps and online banking apps. You can reinstall them once you return home. Before you leave, set up a new password or PIN to lock down each of your devices and upon returning home, change it again. Keep careful track of your phone to guard against pickpockets.
Watch out for data skimmers at public charging stations. The Global Business Travel Association recommends using a juice-jack protector on the end of your USB cord if you must plug into a public charger, or better yet, travel with your own charging device.(7)
Be Proactive
Identity theft is common when traveling or not. Eric Russell, Fraud Analyst at Diamond Credit Union, urges travelers to be proactive whether it's a weekend in a neighboring state or a week in a foreign country. "When traveling there a few steps you can take to help eliminate your chances of falling victim to ID theft. If you're traveling outside of your routine spending area, it's important to contact your financial institution before you leave with dates and destinations so they can monitor your account for suspicious transactions."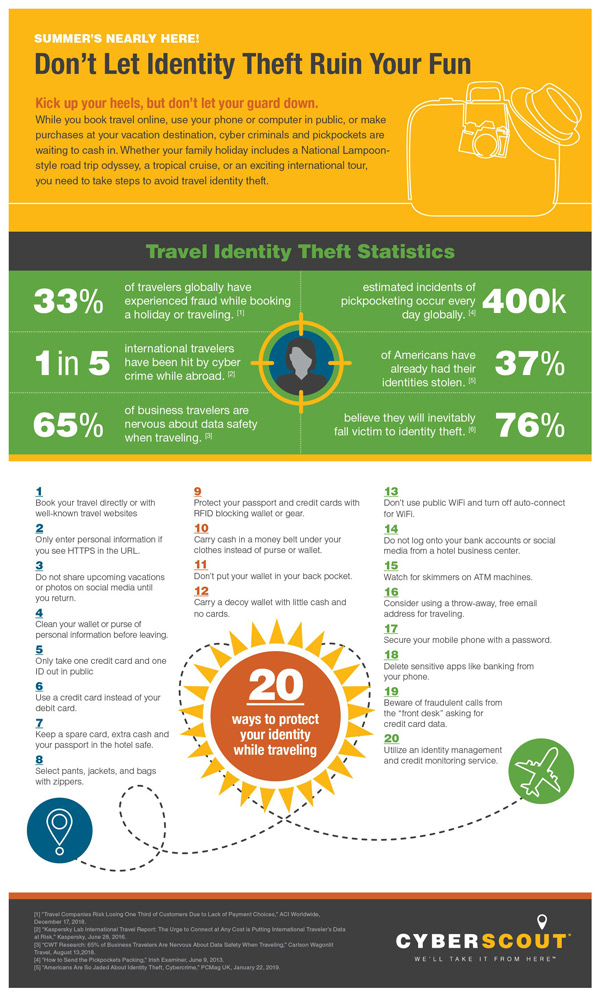 PLAN YOUR VACATION DIGITAL SAFETY WITH THESE ADDITIONAL TIPS
(1)"2018 Summer Holiday Plans Among Europeans, Americans and Asians," Ipsos, May 23, 2018.
(2)"Kaspersky Lab International Travel Report: the urge to connect at any cost is putting international traveler's data at risk," Kaspersky, June 28, 2016.
(3)"How to Safeguard Your Tech, and Your Money, While Traveling," The New York Times, February 4, 2019.
(4)"Kaspersky Lab International Travel Report: the urge to connect at any cost is putting international traveler's data at risk," Kaspersky, June 28, 2016.
(5)"Kaspersky Lab International Travel Report: the urge to connect at any cost is putting international traveler's data at risk," Kaspersky, June 28, 2016.
(6)"Internet Security for Travelers," Rick Steves' Europe.