December 15, 2021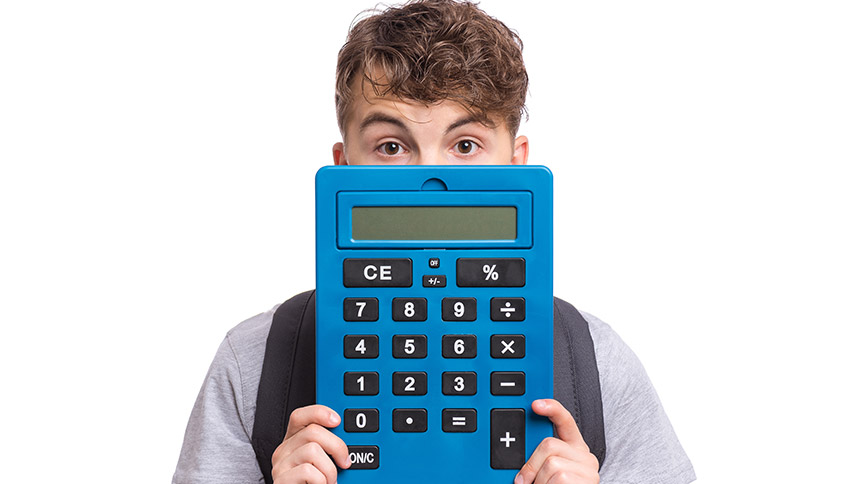 Personal finance isn't a required course in most high schools or colleges, leaving many young people clueless when it comes to managing their money, applying for credit, and staying out of debt. However, developing financial knowledge, skills, and good habits is an important part of becoming a financially-stable adult. In this blog, we'll provide ten tips to help ensure the best financial education for young people to help you get – and stay – on the right track.
1. Create a Monthly Budget
Not sure where to start when it comes to teaching kids about money? Focus on budgeting, which involves tracking where your money goes to ensure your expenses never exceed your income. Experts recommend following the 50/30/20 rule with your take-home pay:
50% towards basic living expenses (rent/mortgage, utilities, groceries, etc.)
30% towards lifestyle expenses (eating out, clothing, etc.)
20% towards the future (debt, retirement, emergency funds, etc.)
Keeping your recurring monthly expenses as low as possible can help you save a lot of money in the long run. And making small, manageable changes to your everyday spending can help you develop better habits and save more money.
2. Know the Difference Between Credit & Debit Cards
Understanding the differences between credit and debit cards can help you stay out of debt and develop better budgeting skills.
Credit Cards
With a credit card, you make purchases from a set amount of credit (determined by your financial institution) and pay for those expenditures at the end of every month. Essentially, it's a short-term loan where you borrow money from your financial institution to pay for purchases. You should only use your credit card for big ticket items, when shopping online, or if you're looking to build credit.
While credit cards are certainly convenient, failing to pay your bill in full and on-time can leave you in significant debt due to extremely high interest rates. On the other hand, paying your bill in full each month helps improve your credit score and build a positive credit history.
Be sure to compare multiple offers – including APRs, fees, penalties, and terms – before signing up for a credit card. You should also avoid department store credit cards, which often come with high interest rates and can negatively impact your credit score because you're amassing more debt. Finally, avoid "buy now, pay later" financing, which may be appealing since there's no interest, but can lead to overspending due to impulse purchases.
Debit Cards
Debit cards work just like cash and draw money directly from your checking account. They also allow you to access cash at ATMs or retail cash registers that offer cash back during purchases. Debit cards are a great choice if you're on a budget or are trying to get out of debt. Just remember that if you overdraw (spending more than you have in your checking account), you may be subject to penalties.
3. Build a Strong Credit History
Establishing a solid credit history (and a strong credit score) is a must if you intend on making substantial, debt-financed purchases in the future. Essentially, your credit report helps financial institutions, credit card companies, and retailers determine whether you're a "good" financial risk.
It's important to check your credit report at least once a year to make sure it's accurate and that you're on the right track. Remember that a bad credit score can make it more difficult to get a loan, secure housing, or find low auto, renter, and homeowner insurance premiums. If you want to improve your credit score, start by making payments on time and in full and reducing your amount of overall debt.
4. Open a Savings Account
A comprehensive financial education for young people should also include an exploration of savings accounts. Many financial institutions offer savings (and checking) accounts that are designed specifically for young adults. In the future, you can use the money you save to prepare for retirement or purchase a house.
If you have a job, you can set up a direct deposit into your savings account or an automatic transfer from your checking account to your savings account. To maximize your savings, open an investment savings account, like an employer-sponsored 401(k) or individual retirement account (IRA). The sooner you start saving, the less principal you'll need to reach your retirement amount, thanks to the snowball effect of compounding interest.
5. Build An Emergency Fund
Creating an emergency fund of 3-6 months of living expenses helps prepare you for the unexpected, like a totaled car, medical emergencies, or sudden unemployment. But surveys show that 23% of Americans have nothing saved for emergencies and 22% have less than three months of savings.
Get in the habit of building your emergency fund by treating contributions like non-negotiable expenses and including them in your budget. You may also consider transferring your emergency fund into a high-interest savings account, short-term certificate of deposit (CD), or money market account. Just be sure to verify in advance that you can access your money when you need it.
6. Safeguard Your Personal Information
Young people are some of the most common victims of identity theft because they tend to be less cautious with personal information, safe web browsing, and social media activity. That's why it's important to protect your personally-identifiable information (PII), which includes your:
Social security number
Credit card number
Driver's license number
Street address
Email address
Phone number
You can protect your PII by using strong passwords and two-factor authentication for online business, frequently monitoring account activity, and being cautious with online and mobile banking. You should also make regular software updates, conduct regular virus scans, and frequently back up data on devices that aren't connected to the Internet.
7. Choose the Right Student Loans
Teaching teens about money also includes a thorough review of the different types of student loans available. Start with the Free Application for Federal Student Aid (FAFSA), which should be completed starting in October of your senior year of high school.
There are four kinds of federal student loans offered through the Federal Direct Loan Program:
Direct subsidized loans, which are based on financial need and typically don't charge interest.
Direct unsubsidized loans, which are not based on financial need and do charge interest.
Direct PLUS loans, which are unsubsidized and available for graduate/professional students and the parents of undergraduates.
Direct consolidation loans, which allow you to combine multiple federal student loans into one new loan.
You can also apply for private student loans from credit unions and other private financial institutions. Keep in mind that these loans are unsubsidized and typically require repayment while you're still in school.
8. Learn About Tax Preparation
Financial literacy for kids (and young adults) means getting familiar with the steps involved in preparing and filing tax returns, especially if you plan on doing this yourself. Tax forms are issued by employers, financial institutions, lenders, and investment companies and include W2s, 1098s, 1099s, and 1095s.
9. Understand Paycheck Deductions
Whether you're still in school or already have a job, it's important to know all of the taxes and deductions that come out of your paycheck and how that money is used for the greater good. Before starting a new job, calculate whether your salary will provide enough money after taxes to meet all of your financial obligations. You should also understand the differences between gross and net salary, along with how to choose different tax deductions and how they affect your take-home pay.
10. Get Familiar with Different Types of Insurance
Our last tip for ensuring a great financial education for young people is familiarizing yourself with different kinds of insurance. There are five main types of insurance that everyone should know about:
Health insurance. Employers typically offer high-deductible health plans or health savings accounts (HSAs) and may cover some of your costs. If your employer doesn't offer health insurance (or you're self-employed), you can buy coverage on the Health Insurance Marketplace. If possible, you should stay on a parent's health insurance until age 26.
Disability insurance. Offered through employers, this provides you with a steady income if you're unable to work for an extended period of time due to injury or illness.
Life insurance. Your policy will pay out a death benefit that provides loved ones with economic stability if you die prematurely. It may also pay off outstanding debts or future college costs for your dependents.
Renters insurance. This protects your belongings in the event of a burglary, fire, flooding, and other mishaps.
Homeowners insurance. This helps cover the cost of repairing or replacing your home and belongings if they're damaged by certain perils. It may also help cover your expenses if you accidentally damage another person's property or if someone is injured at your home.
Check Out Diamond's Zogo App
Looking for a fun and interactive way to ensure a great financial education for young people? Check out Zogo! This fun-sized mobile app features over 300 learning modules on useful topics like budgeting, spending, and investing.
As you successfully answer questions and complete financial lessons and activities, you'll earn $5 gift cards from a variety of well-known brands. Zogo is available for both Apple and Android devices and can be downloaded here using the code DIAMONDCU.
Ready to open your first checking or savings account with Diamond Credit Union? We'd love to hear from you. Let us know if you have any questions or can help you get started.