June 15, 2021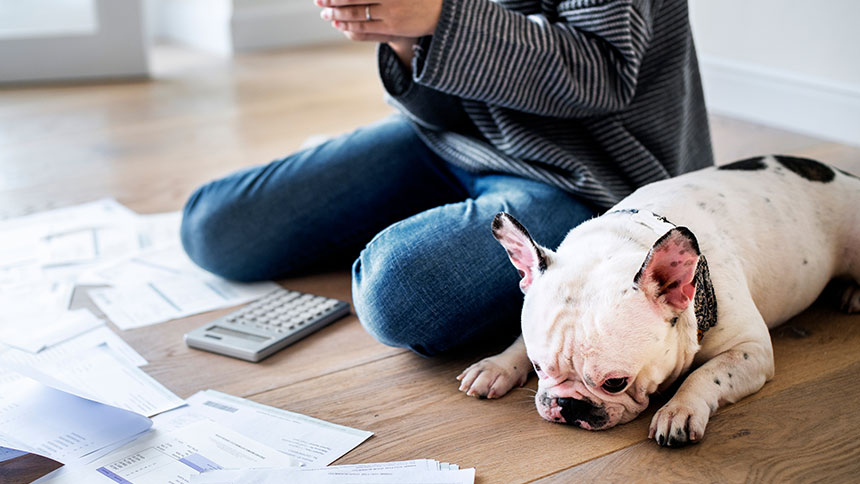 Have you heard of "buy now, pay later" (BNPL) financing? Forty percent of Americans have used BNPL services at one point, and BNPL accounted for $24 billion in U.S. spending in 2020. While it's an attractive option for many shoppers, almost half of BNPL users have incurred fees or interest due to late payments. In this blog, we'll take a closer look at the disadvantages of "buy now, pay later," along with alternatives to financing large purchases.
What is "Buy Now, Pay Later"?
Simply put, "buy now, pay later" financing is a short-term, interest-free loan taken out at the time of purchase. Unlike layaway (where your item is on hold until you finish paying for it), BNPL allows you to get your merchandise first and pay it off over time.
Popular among families and younger generations, BNPL increases sales during economic downturns by boosting consumer purchasing power. While it's more common among online retailers, many brick-and-mortar stores also offer BNPL.
There's typically no fee to sign up for and use BNPL services, which are offered by both banks and third-party service providers. And because there's no credit check, BNPL doesn't require a good credit score.
How Does "Buy Now, Pay Later" Work?
"Buy now, pay later" financing is very straightforward. You start by opening an account with the seller before or during your transaction. You'll receive an approval decision within a few minutes. If you're approved, the item's total purchase price is divided into equal payments that are made weekly, every two weeks, or monthly.
One common BNPL model is "pay in four," where you put 25% down and pay 25% every two weeks until your purchase is paid off. Pay in 4 from PayPal® follows this structure. We'll look at a few other popular BNPL apps and services later in this blog.
How is "Buy Now, Pay Later" Different From a Credit Card?
There are three main differences between "buy now, pay later" financing and charging a purchase to your credit card:
Unlike a new line of credit, you can get approved for BNPL financing in minutes.
There's no credit check required with BNPL since withdrawals come directly from your bank account or debit card.
In most cases, BNPL is a one-time loan that can only be used for one specific purchase. However, some "buy now, pay later" services function as "ghost" Visas.
Types of "Buy Now, Pay Later" Financing
There are two main types of "buy now, pay later" loans: merchant transaction fee loans and shopper interest loans. We'll take a closer look at each one below:
Merchant transaction fee loans charge sellers a transaction fee, rather than charging the consumer interest.
Shopper interest loans require repayments with interest, so there's no merchant transaction fee involved.
Popular "Buy Now, Pay Later" Services
While there are dozens of "buy now, pay later" services, we've compiled a few of the most common (and popular) below.
BNPL Apps
Affirm
Afterpay
FuturePay
Klarna
PayPal Credit
QuadPay
Sezzle
SplitIt
BNPL from Banks & Online Payment Systems
American Express Pay It Plan It®
Citi Flex Pay
Pay in 4 from PayPal®
What Are the Disadvantages of "Buy Now, Pay Later"?
While it may seem like a very appealing option at first, there are many disadvantages of "buy now, pay later" financing. Each service has its own set of rules and restrictions, so be sure to read the fine print. Let's take a closer look at the negatives associated with BNPL and how it can hurt your financial standing.
Overspending & Impulse Purchases
One of the biggest risks of "buy now, pay later" is the temptation to overspend on something you can't actually afford. This is because the monthly payments are smaller than the upfront purchase amount, which may trick you into thinking the item is more affordable. BNPL also influences shoppers to make impulse purchases, which is why it's so popular with retailers.
Interest Fees & Late Payment Penalties
While most "buy now, pay later" programs don't charge interest, late/missed payments or insufficient funds can trigger substantial fees and penalties. If you have insufficient funds, you'll be charged a daily late fee until you have enough money to make the scheduled payment.
You may also be charged interest for the rest of the repayment period if you miss a payment or are late. And BNPL interest rates are usually quite high — even more so than credit card interest rates. Ultimately, you may end up paying more in interest or late payments than what the item costs in the first place.
Another disadvantage of "buy now, pay later" is that the provider determines when repayments are drawn from your account. That means you can't work around paydays and automatic deductions for other bills. Making BNPL work to your advantage requires a solid grasp of when money comes in and out of your checking account to ensure you have enough for scheduled repayments.
Damaged Credit Score
Missed "buy now, pay later" payments and loan defaults are reported to credit bureaus, so misuse of BNPL can hurt your credit score. Even worse, on-time payments aren't reported, so BNPL doesn't help you build credit. Plus, some BNPL providers do a soft credit check. While one or two of these are okay, too many soft inquiries may create a hard check and damage your credit score.
No Credit Card Perks
Using "buy now, pay later" as opposed to your credit card means you'll miss out on perks like points, travel miles, and cash back. And using a credit card and paying your bill in full at the end of the month guarantees you'll avoid paying interest on any of your purchases.
Decreased Ability to Get Other Loans
As "buy now, pay later" becomes more prevalent, many lenders are factoring your relationship with BNPL into lending decisions. This means how you use BNPL and the limits on your current and past accounts can play a role in whether you're approved for another type of loan. Lenders may perceive scheduled repayments on BNPL loans as ongoing financial commitments, even if you're paying in full and on time.
No Government Protections
Unlike credit cards and other types of loans, there's no federal oversight for "buy now, pay later" through the National Credit Act. That means you have fewer protections as a consumer, which is yet another disadvantage of "buy now, pay later" financing.
BNPL providers also aren't required to evaluate your financial standing to determine whether you can afford repayments. As a result, it's easy to overspend and get in over your head since there's nothing to stop you from making poor financial decisions.
Avoid BNPL By Planning Ahead & Saving for Major Purchases
Ask yourself, "should I finance with BNPL?" Rather than taking out "buy now, pay later" loans on larger purchases, we recommend making a plan ahead of time and saving money gradually. You can do this by taking advantage of automatic deductions and transfers into accounts specifically intended for vacations, Christmas gifts, emergencies, and more.
Saving money over time for a purchase softens the blow of large expenses and reduces the amount you end up borrowing. If you end up using a credit card to finance some (or all) of your purchase, be sure you've budgeted for the amount you're charging and pay it off immediately to avoid interest.
Create a Comprehensive Savings Plan
Start by determining the cost of your purchase and how long you want or need to save for it. Then, divide the purchase price by the number of months you're saving money for. Save this amount every month until you have enough to cover the entire purchase. Be sure to maintain your existing budget throughout the process of saving for your large purchase, rather than drawing from it.
Establish an Emergency Fund
It's very important to have an emergency fund in place before making any large purchases. Your emergency fund should cover 3-6 months of living expenses should you lose your job, get sick, or need to repair a necessity. If you've never had an emergency fund before, start with two months of expenses. While it can be tempting, you should never take money from your emergency fund to put towards your purchase.
Research & Take Advantage of Sales
Always look for the lowest price on the item you want, and comparison shop to make sure you get the best deal. Many big-ticket items go on sale at certain times of the year, like Black Friday, the lead-up to Christmas, Memorial Day, and Presidents' Day. The Internet makes comparison shopping easier than ever, so be sure to set up price tracking alerts on several sites for when prices drop.
Don't Forget About Seasonal Expenses
Finally, be sure to consider any seasonal expenses you'll face when the time comes to make your big purchase. These can include:
Heating costs in the winter
Cooling costs in the summer
Travel expenses in the summer
Graduation gifts/parties in the spring
Holiday and birthday gifts
Car insurance premiums
Depending on their amount and frequency, seasonal expenses can make it more difficult to save for your large purchase or rebuild your savings afterwards. One way to plan ahead is by putting money aside for your seasonal expenses in advance or saving for them alongside your large purchase.
The best way to avoid the disadvantages of "buy now, pay later" financing is by opening an account at Diamond Credit Union! Learn more about our personal banking services and contact us today to get started.