September 20, 2021
Diamond Credit Union has proudly partnered with the American Cancer Society's Relay For Life since 2006. Fundraising has looked different these last couple of years. However, Diamond employees, members and the surrounding communities continue to rise to the occasion to find new ways to raise money and support those battling cancer.
This year, Diamond and other Relay For Life supporters were able to participate in the long-standing Cancer Walk once again. On September 18, a group of DCU employees gathered at Memorial Park in Pottstown, Pa. to walk in support of those that have been impacted by cancer.
The event kicked off with opening ceremonies where Diamond's very own HR Associate, Kim D., spoke to rally this year's crowd for another successful Cancer Walk. Participants then checked out the various tents that teams had set up and enjoyed the live music while walking around.
Photo: Diamond Credit Union's Relay For Life team, Diamond's Hope, at the 2021 Pottstown Cancer Walk.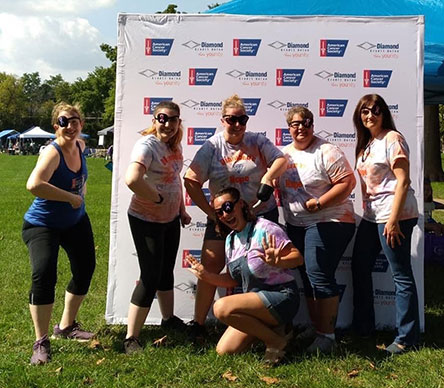 Relay For Life means a lot to Diamond, in more ways than one. Whether it be the families of employees that have fought cancer, or the employees that have come face to face with the disease. Community service and caring for others is one of the best parts about being a Diamond employee.
"One of the top reasons I wanted to work for Diamond is because of how involved the company is with Relay For Life," Pottstown branch Assistant Manager Breanne A. said. "As a cancer fighter, I constantly look for ways to give back as much as I was given through the hardest years of my life. I feel incredibly fortunate to work for a company that has the same values."
Diamond's Pottstown branch Manager, Amy F., is also a cancer survivor. When asked what it means to work for a company so involved with Relay, she had this to say, "I felt support from all directions of my DCU family while undergoing treatment. I feel lucky to work for a company that showed up for me when even I didn't know how much I needed it."
The organization's support for those battling cancer goes beyond Relay For Life. It means showing up to fight for those closest to the organization that have had cancer impact their lives. Diamond Credit Union is incredibly grateful to have employees and community members that support the mission of the American Cancer Society.
Keep an eye out in the next coming weeks for the total amount that Diamond has raised for Relay For life in the last 15 years.
If you want to be part of a community that cares about its community, consider applying to Diamond Credit Union.