November 12, 2021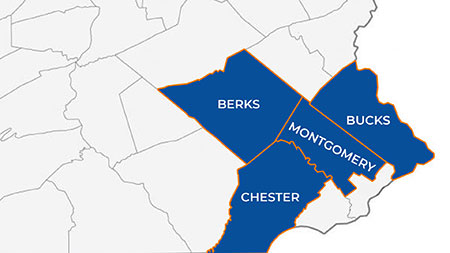 Photo: A map of the expanded territory for Diamond Credit Union.
Diamond Credit Union is growing its serving area to now include all of Berks, Bucks, Chester and Montgomery counties to continue expanding the younity community.
This means that if you live, work, worship, regularly conduct business or attend school in one of these four counties, you are eligible to become a Diamond member.
"It's an amazing feeling to look back at where Diamond started and see where we are today," President/CEO John Faust said. "This expansion is possible because of our team's dedication to service and the tens of thousands members who have put their faith in them."
Diamond's previous charter area included all of Berks County and slivers of Chester and Montgomery counties, and none of Bucks County.
Diamond's Charter & Growth
The credit union originally began in 1947 inside of Dana Incorporated to serve its employees. It began with just eight members. Diamond then became state chartered in the early 90s, and with that gained the ability to serve multiple businesses. In the mid-2000s, Diamond shifted to a community charter that allowed the organization to serve anyone in all of Berks and parts of Chester and Montgomery County.
What started off as just eight people has grown into a community over 64,000 strong. Diamond went from one branch to seven that are spread throughout the service area. Along with a growing membership comes with employment opportunities. The organization runs on over 180 employees that are dedicated to providing quality service and helping members.
Diamond held a special meeting of the membership on July 27 where it was voted on to file Articles of Amendment with the Pennsylvania Department of Banking to expand the charter. The PA Department of Banking recently approved that expansion.
Why Join Diamond?
This charter expansion means that Diamond has the potential to serve many more community members. Banking with Diamond means interacting with people that love their jobs and access to premium financial products that are exclusive to Diamond members.
Being part of Diamond is about more than banking. Diamond has been a proud partner of the American Cancer Society's Relay For Life for over 15 years. When employees and members aren't participating in Relay fundraisers, they are involved with other charitable organizations in local communities.
That's what younity is all about, giving back and working together to build stronger communities.
If you think Diamond is a good fit for you, you can open an account online, speak with a Diamond representative at 610.326.5490 or visit your local Diamond branch.