March 28, 2019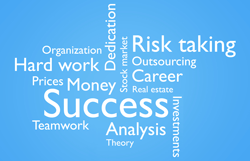 Am I ready to start a business?
Just like with most big life decisions, there is no perfect time to act. But there are questions you can ask yourself to see if you're in an ideal place to tackle a life-changing adventure — such as starting your own small business. When you feel like the time is right, answering these questions may guide you through the steps to starting a small business.
Do I Have a Hobby or Business Mind-Set?
For tax purposes, the IRS wants to ensure that you're running a business versus practicing a hobby. The IRS uses these guidelines to determine whether your activities are business- or hobby-focused.
Do you carry on the activity in a businesslike manner, with complete and accurate books and records?
Does the time and effort you put into the activity indicate you intend to make it profitable?
Do you depend on income from the activity for your livelihood?
Are your losses due to circumstances beyond your control or are they normal to the startup phase of a business?
Have you made changes to your methods of operation in an attempt to improve profitability?
Have you been successful in making a profit in similar activities in the past?
Do you expect to make a future profit from the appreciation of the assets used in the activity?
If you've already made the small changes that take you from hobby to business, now may be the time to make it official.
Do I Have Good Business Sense? (Or have a partner who does?)
There is more to starting a business than being an expert in your craft. You also need a good business sense. This includes at least a basic knowledge of accounting, inventory management, the sales process, and marketing techniques. Armed with this knowledge, you can invoice your customers, pay outside vendors, maintain an adequate product inventory, build awareness for your business, and hire employees. If this takes you out of your comfort zone, be sure that you find a business partner who can handle these tasks.
As your business grows, and your budget allows, you can enlist a team of professionals to help you with essential business activities. This will allow you to focus more on your product or service. Until then, your success will depend on you having some business know-how.
Do I Understand the Market?
You have a passion and want to position this offering/service to others. How can your small business go wrong? If only it was that simple. To avoid early bumps in the road, one of the most important guidelines for starting a small business is completing market and competitor research. To get started, put some research and thought towards these questions:
Is there a need for your product or service?
Is the market already over-saturated with similar businesses?
What is each competitor's market share?
What is the price scale for products or services?]
What is your unique selling feature?
What are the current market conditions (high employment, high consumer confidence, etc)?
Who is your target customer (geography, age, education, income, lifestyle)?
Are there any barriers to entering the market?
Using this information, you can create a small business SWOT analysis which is defining your small business's Strengths, Weakness, Opportunities, and Threats.
Do I Have a Business Plan?
At this point, you don't need a document that's dozens of pages long. When you're in the early phases of starting a small business, a lean start-up business plan is often enough. Experts from the U.S. Small Business Association recommend including the following information in your start-up business plan:
Business identity
Market problem and your solution
Target market
Competitor analysis
Revenue stream
Expenses
Marketing action plans
Team members and key roles
Not only does this provide a roadmap for a successful business launch, investors and business lenders will also need to review this information before they offer to fund your endeavor.
Do I Have Cash Available?
When you're starting a business, it's necessary to have the cash available to fund the operations as you build a profit. The final step to determine if you're ready to start a new business is estimating your start-up costs. You'll need start-up capital for items such as office space, equipment, supplies, license / permit fees, insurance, raw materials / inventory, employee salaries, and marketing actions.
Once you have a realistic estimate of what it will cost to run your business, you'll need to find ways to fund the operations until you earn a profit. If you have the money available, you may be able to self-fund the startup phase of your business. If you don't have available cash, you can seek out investors to provide the cash flow for your business. Another option includes working with a bank or credit union for a small business loan.
In addition to the cash necessary to run a business, you should also confirm that your emergency savings is strong enough to support yourself during the early stages of starting your small business. Early profits need to go towards paying employee salaries or repaying investors before you can pay yourself a salary. An emergency savings will give you the confidence of knowing that you can still pay your monthly personal expenses as your business gets up and running.
"Remember not to spread yourself too thin. There are many aspects to running a small business, but don't lose focus on why you were interested in starting a small business in the first place," added Phil Fry, Business Services Manager at Diamond Credit Union. "Plan thoroughly, do your research, and don't be afraid to reach out for assistance."
Are you ready to start a small business? If you still have questions about small business loans, business accounts, or commercial real estate, contact the experts at Diamond Business Services.