March 19, 2019
Data loss can strike at any time, and the cost of recovery will be high—unless you have a recent, usable backup. Take the first step to protect your data and valuable information by following the 5 Ws of backing up data—the who, what, where, when, and why—on World Backup Day, March 31, 2019.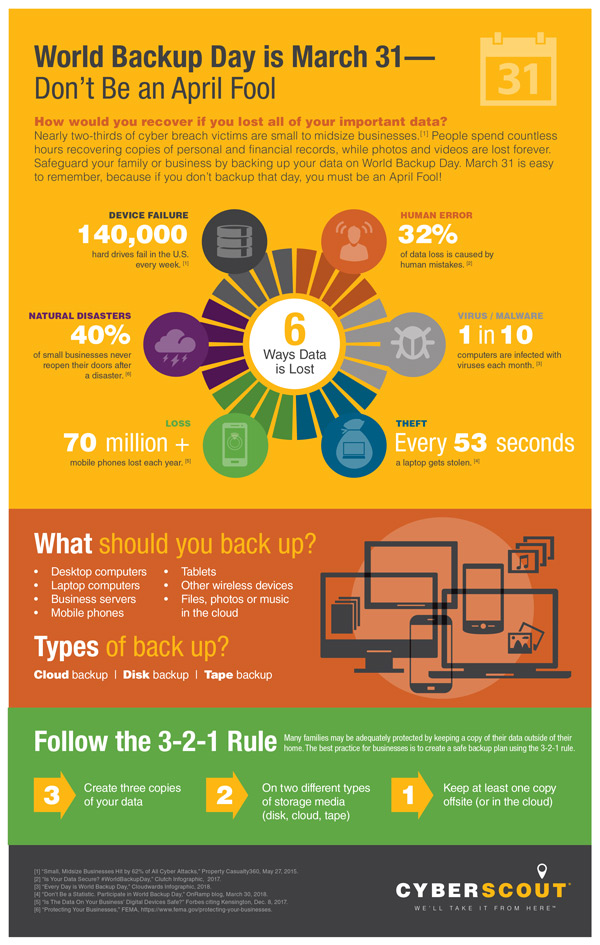 Why Should You Back Up Your Data?
Let's begin with why. Backup copies are a form of insurance against a devastating data loss that can be caused by hardware failure, human error, cyber attacks, and natural disasters. Consider these alarming statistics: Data attacks are on the rise for small and medium-sized businesses (SMBs)—and they're costly.(1) Sixty-one percent of SMBs fall victim to cyber attacks and the average cost of an attack due to disruption of normal operations is about $1.2 million.(2)
Who Should Back Up Their Data? Everyone!
Everyone needs to back up their data. Yet many families and SMBs claim they do not adequately back up their information. According to a survey, 24 percent of people never back up their PC and another 17 percent haven't backed up in more than one year.(3)
"Backing up your home computer files is a safe and effective way to guard against all of your files from being lost whether due to fraud, a virus, or some other means. By considering how much you use your computer and how long you've had your computer (as some files you may have long forgotten about), backing up your files regularly protects information that may be irreplaceable," advises Eric Russell, Fraud Analyst at Diamond Credit Union.
What Data Needs To Be Backed Up?
Back up data that is difficult and time-consuming to recreate or recover. For personal data, this includes:
Personal identification documents. such as copies of a driver's license or a passport
Educational and employment records, including awards, promotions, commendations
Medical records, especially paper records
Passwords and contact lists
Photos, video, or music files—including what is on phones and computers.
Businesses should back up operational, financial and customer information, including:
Accounting databases, including AR and AP records
Financial management reports
Payroll records and employee files
Point-of-sale and transaction history
Customer records and CRM database
Fixed asset inventory, photos and preventative maintenance logs
R&D, blueprints, and proprietary information
And more.
When Do You Need To Back Up Data?
Back up on a regular schedule. To determine frequency, think about how much data you create on a daily, weekly and monthly basis. Then decide how much you could afford to lose should disaster strike when you are between scheduled backups. Restored data is only as good as your most recent backup.
For a family, backing up several times each year may be sufficient. If you take a lot of photos or work from home as a contractor or creative professional, consider backing up more frequently. Most businesses would benefit from an automated system for daily or weekly backups.
Where Is The Best Place To Store Backup Data?
Once you have decided on a regular backup schedule, follow the 3-2-1 rule for backing up.(4)
Make at least THREE copies of your files and information.
Create those backups on TWO different types of storage media—including USB drives, external hard drives, tape backups, or cloud storage.
Keep at least ONE copy of your backup offsite, either in the cloud or safely in another building, a safe deposit box, or at another business location.
Diamond Credit Union has partnered with CyberScout to offer comprehensive identity management services. If you detect suspicious activity or would like to proactively protect your identity, contact us at 610-326-5490 to be connected to a CyberScout fraud expert.
(1)"State of Cybersecurity in Small and Medium-Size Businesses," Ponemon Institute, 2017.
(2)Ibid.
(3)"Computer Backup Awareness in 2018: Getting Better and Getting Worse," June 21, 2018.
(4)"The DAM Book: Digital Asset Management for Photographers, 2nd Edition," p. 207, O'Reilly Media, 2009, https://bit.ly/2CEF6Rt.