January 12, 2023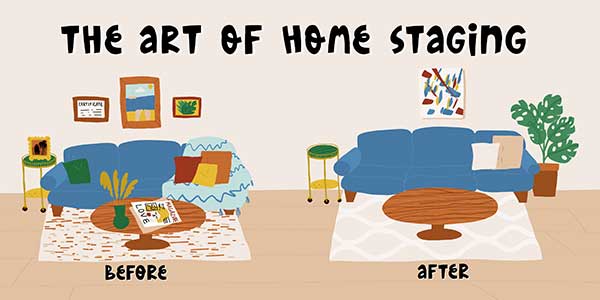 You most likely put a lot of thought into the design of your home. You painted the rooms, picked out your favorite furniture and added small details to make your house your home. Unfortunately, not everyone has the same style or taste. Staging your home can help you sell it faster and for more money.
If You Have Specific Taste
It's nothing personal, but not everyone is going to like the design choices you made for your house. If you have very specific taste, this is where staging can really help you sell your home.
Stagers know the current trends and conditions for making a home look its best. They will come in and figure out the best layout for furniture, notice places for décor and even bring in their own furniture to make the most of a space. If a room is crowded, they will also declutter it to make it look bigger.
Doing this can completely change the look and feel of your house. When there aren't any personal items to distract the buyer, they can focus on the home itself instead of your furniture choices. You might not think that your bedroom is cluttered or that the way you have it arranged makes a big difference until a stager comes in and you see it for yourself.
You want the buyer to notice how great the space is, not your choice in furniture.
Staging Helps Buyers Visualize
If you've already moved out or don't have much furniture to begin with, staging can also help you. It's hard for some buyers to imagine what they can do to an empty space.
Staging your home can help buyers picture where their furniture will go or how to decorate it. If you have unique areas of your house that aren't common, it can help buyers see what to do with the area as well.
In a 2021 study conducted by the National Association of Realtors, 82% of buyers' agents said homes that were staged helped their clients visualize the property as their own home.
How Staging Can Benefit You
Home staging can benefit the seller in a seller's market or buyer's market, but it can especially be helpful in a buyer's market.
In a buyer's market, homes will typically stay on the market longer and the buyer will have more options to pick from. Buyers are more inclined to put an offer in on homes that are organized in a way that makes the most of a space. That means it can help you sell your home faster.
Staging your home can also help you sell it for more money. According to the National Association of Realtors, 23% of buyers' agents said that home staging helped increase offer values between 1% and 5% compared to homes that had not been staged.
"Statistics prove that staged homes sell faster and for more money than non-staged homes," RE/MAX of Reading Real Estate Agent Dave Mattes said. "Even though I don't see staging used in Berks County often, I think that during a buyer's market it may be a beneficial resource."
The Cost of Staging
If you're going to hire staging professionals, the price can vary. According to Home Advisor, the average cost of home staging ranges between $766 and $2,852. It can be lower or higher depending on if you rent furniture, and how long you rent the furniture for.
While it could cost you $3,000 to stage your home, you could make that back and more if it sells over asking price. If your house has been on the market for a while and you're in a position where it just needs to sell, this might be a small loss in the grand scheme of things.
If you're on a tight budget, another option is virtual staging. Virtual staging is when a company takes photos of an empty house and creates images with different types of furniture in the space. This can help buyers visualize vacant houses as their own. Virtual staging is anywhere between $200 and $400 depending on what company you use.
There can be a lot of decisions that you need to make when selling your home. Home staging is something that can help make the sale process faster, and help you sell your home if it's been on the market for a long time.
If you want to know if home staging is the right choice for you, speak to a real estate professional.