July 10, 2019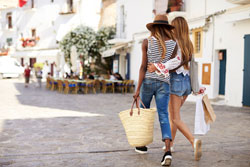 Shoulder bags, book bags, and brief cases are often handy places to carry your wallet with items you "might need" as you go about your day. Whether you plan to stop for groceries or end up enjoying an impromptu stop with friends after work, it seems to make sense to have the items you "may" need with you at all times. But think again. Carrying unnecessary items in your wallet or bag containing personally identifying information is risky. Not only do items like receipts give thieves a head start in figuring out your account number, or gift cards revealing your favorite places, these also provide hints towards your behavior patterns and thus possible opportunities for thieves to "strike again".
Criminals are becoming more and more sophisticated and do not need much information to possibly defraud someone or a business.
Wallet Checklist
Unless you know you will need one or more the following items on a specific day, it's best to leave them out of your wallet and at home or in a secure place. Safety deposit boxes at your credit union, or other financial institution, are another great option for storing important documents. If you're traveling, make use of the safe boxes often provided in your room or inquire at the front desk for other secure storage options.
Social Security Cards – are a gateway to identity theft.
Birth Certificates – make it easy for identity thieves to impersonate you.
Receipts – aren't just bulky, they contain information that can help a thief guess your account numbers.
Gift Cards – are the first thing a thief will use from a stolen wallet. Leave them at home unless you plan to use them.
Extra Credit Cards – provide thieves more opportunities to steal your money and information.
Blank Checks – are effortlessly forged and cashed.
Passports – contain vital information that make it simple for thieves to steal your identity.
Medicare Cards – could carry your Social Security number. If so, carry a photocopy and black out the number.
Spare Keys – make it too convenient for a thief who has your address to gain now access your home.
PINs and Passwords – give thieves carte blanche to steal money directly from bank accounts and more.
"Also try not to carry excess amounts of cash. This can lead to unwanted attention along with an easy target for thieves and fraudsters. I would also be cautious about carrying work badges or an overabundance of business cards. This could not only lead the fraudsters to you but also your employer which opens up a whole other realm of possibilities," added Eric Russell, Fraud Analyst at Diamond Credit Union.
Don't get weighted down. Lighten up your wallet – your shoulder bag, book bag, or briefcase – and protect your identity. Diamond Credit Union members needing immediate help resolving Identity theft or to proactively manage their identity can contact a local branch to be connected with a fraud specialist at CyberScout.
Infographic and partial content provided by CyberScout.