July 9, 2019
The 2019 People's Choice award for Berks County's Leading Credit Union recently went to Diamond Credit Union. This is the 12th time Diamond has accepted the honor, which is given by Berks County Living magazine.
FieldGoals.US, an independent market research firm based in Harrisburg, Pa., spent months researching and polling the Berks County market to conduct an objective and statistically sound survey in 75 business categories. The results determined which businesses were honored.
Winners were honored at an awards ceremony at the Double Tree Hotel in downtown Reading.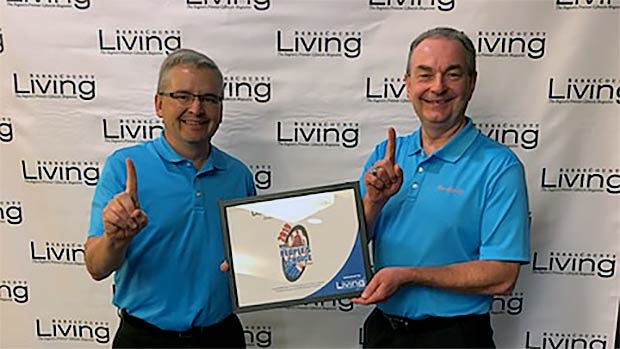 L-R: Todd Rothenberger, Sr. VP/Chief Retail Delivery and Marketing Officer, and John Faust, President/CEO of Diamond Credit Union, accept the 2019 People's Choice award.
Thank you
"The support from the people of Berks, who chose Diamond Credit Union again, is sincerely appreciated," said John Faust, President/CEO of Diamond Credit Union. "Diamond is committed to making every member's experience matter and our entire staff should feel great about the 2019 People's Choice honor."
Here to serve
Diamond Credit Union has branches in Pottstown, Wyomissing, Exeter, Boyertown, Reading Hospital, Royersford and will open a new branch on the 5th Street Highway in Muhlenberg this fall.
Making banking a uniquely personal experience for members … That's younity.